The largest solar park in Rotterdam has been constructed on top of the freezer warehouse of FrigoCare in the Waalhaven, and it produces enough electricity to supply one third of the warehouse's energy needs.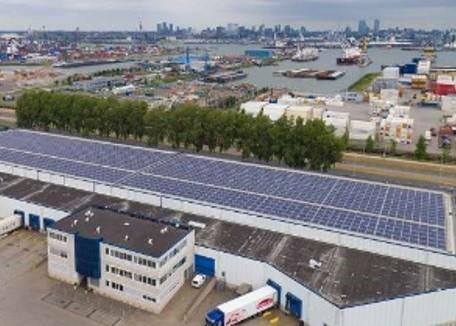 This solar park is a collaboration between FrigoCare, Zon Exploitatie Nederland (ZEN) and the Port of Rotterdam.
"The starting point for the upgrade of our warehouse was that we wanted to address it as environmentally friendly as possible," said John Bouman, managing director of FrigoCare.
"Partnering with ZEN allows us to reduce CO2 emissions by approximately 325 tonnes annually. That is a very nice start which we hope will be followed by others in the logistics sector."
FrigoCare, a subsidiary of Samskip, investing €650,000 in the renovation of the roof, while Zon Exploitatie Nederland (ZEN) paid €1m for the solar panels and provides the operation and maintenance.
The roof has a surface area of 7,500 square metres, the size of a football field. Altogether, 3,100 solar panels have been installed, which allow the generation of 750,000 kWh of electricity annually. The setup costs incurred are expected to be recouped within ten years.
According to Michel Peek, director and founder of ZEN, the initiative is a big boost for the entire city. "Rotterdam has green ambitions, but was still lagging behind concerning solar energy. This park increases the capacity to generate solar energy in Rotterdam by no less than 25%."
The port of Rotterdam offers many opportunities for the large-scale generation of solar energy. In 2014 a large solar park was inaugurated on the roof of the RDM Shipbuilding Hall while the cold store of the Kloosterboer Delta terminal was also equipped with solar panels.
Book your place now to hear the Port of Rotterdam's presentation on 'Mitigation, adaptation and decarbonisation at the Port of Rotterdam!
Preferential rates are available for participants attending both the GreenPort Cruise Conference and GreenPort Congress and members of supporting associations qualify for special rates. For more information contact the Events team on +44 1329 825335 or email congress@greenport.com.
Follow the event on Twitter @GPCongress.