Come and meet our sponsors at GreenPort Congress and Cruise on 10 to 13 October at the NH Barbizon Palace Hotel, Hosted by the Port of Amsterdam.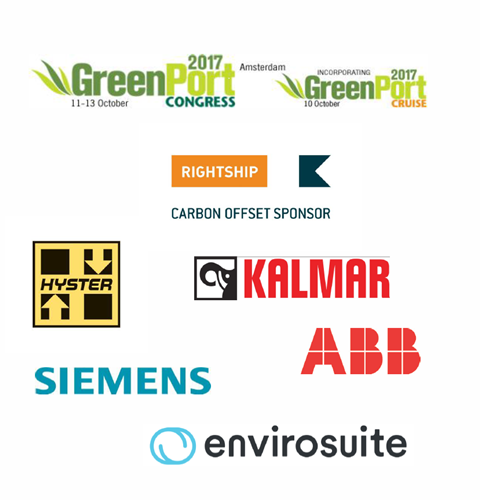 Ports receive strong pressure from cities to reduce emissions from ships,freight trucks and the machinery of port terminals, as well as traffic emissions from passenger vehicles for people mobility within these complexes.
RightShip - this year's Gold and Carbon Offset Sponsor - the world's leading maritime risk management and environmental assessment organisation.
ABB Spa - is a pioneering technology leader in electrification products, robotics and motion, industrial automation and power grids, serving customers in utilities, industry and transport & infrastructure globally.
Hyster - Hyster is the leading global supplier of materials handling equipment.
Kalmar - Kalmar offers the widest range of cargo handling solutions and services to ports, terminals, distribution centres and to the heavy industry.
Siemens – The Siemens Energy Management Division, Erlangen, Germany, is one of the leading global suppliers of products, systems, solutions, and services for the economical, reliable, and intelligent transmission and distribution of electrical power.
Envirosuite - Clarity for improved operational & environmental performance.
Make sure you don't miss this opportunity to meet and discuss cost saving and emission reducing solutions with key stakeholders and hear from our speaker discussion on Port-City Integration and Sustainable Development goals.
Click here to book your place today
For further information contact the Events team on +44 1329 825335 or email congress@greenport.com.
Follow the event on Twitter @GPCongress.