An expert online discussion panel took place on Tuesday 10 November featuring the 2020 Environmental Report from ESPO.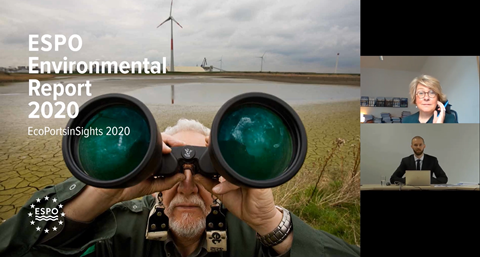 Isabelle Ryckbost, Secretary General, ESPO, teamed up with GreenPort LIVE to deliver the top environmental priorities for ports in 2020. The event featured the launch of the ESPO Environmental Report 2020, which revealed that the best environmental port performers should become the 'new normal' in the wake of the Covid-19 pandemic and Brexit.
"Any economic impact slows down the rate at which we can invest but it does not mean we are pulling back on green investments," said Eamonn O'Reilly, chairman of ESPO and chief of Dublin Port.
"A comprehensive port masterplan is for the long term and incorporates both capacity development and the environment which is all intrinsically linked. Nowadays you can't do one without the other."
The underlying challenge for any business, Mr O'Reilly says, is transcending the things you cannot meaningfully predict today, but we should still be cautiously optimistic.
The report, now in its fifth year, surveyed nearly 100 ESPO EcoPorts on their environmental priorities, and revealed that air quality is the top environmental priority for European ports. ESPO intends to use the information gleaned from the report to help ports build environmental resilience going forward.
"This year's ESPO Environmental Report shows, that despite the challenging times ports are going through, environmental engagement and support has not been put on hold," says Isabelle Ryckbost GreenPort LIVE host and secretary general, ESPO.
GreenPort LIVE ended with an introduction to the GreenPort Congress 2021 by Nektarios Demenopoulos from the host port, Piraeus Port Authority. The conference will take place from 20-22 October 2021.
The first GreenPort LIVE online conference took place on 10 November 2020 and launched the latest ESPO Environmental Report 2020 hosted by Isabelle Ryckbost secretary general ESPO, with guest speakers Valter Selén Senior Policy Advisor for Sustainable Development, ESPO, Eamonn O'Reilly Chair, ESPO, chief executive Dublin Port, Daniel Mes Member of the cabinet of Commission Vice President, Frans Timmermans and Rosa Mari Darbra, Associate Professor Rosa Mari Darbra, Polytechnical University of Catalonia.
Read the full report of the event here
The full recording of the event is now available to view online!