Ecuador had a very difficult 2020 due to COVID-19 but prospects are now improving. Rob Ward assesses the impact on ports and looks at expected developments for 2021.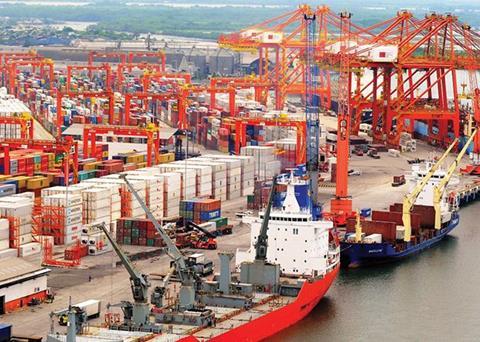 At times last year one of South America's smallest countries, Ecuador, was going through a torrid time with hundreds of dead bodies piling up on the streets of the port city of Guayaquil as COVID-19 wreaked havoc and the state infrastructure could not handle the deluge.
At that time the left-wing government of Lenin Moreno struggled to contain the spread of the virus and the economy was struggling, plus the 17.1 million inhabitants of Ecuador were not optimistic about prospects for 2021 and the Presidential election in April.
However, since Guillermo Lasso, a centre-right candidate and former banker, won the 2021 Presidential election by defeating Moreno's successor and took over the reins of power in May, much of Ecuador, and especially the business community, are feeling far "more optimistic".
GOOD CHOICE BRINGS OPTIMISM
"Lasso is good choice for more economic development, especially considering the alternatives, who were anti-market," says Simon MacKenzie, the President of Asonave (the Chilean Ship agents' Association) and an executive for Ian Taylor shipping agents in Chile, which also has an office in Ecuador.
This optimism should lead to increased consumer spending, according to several Port Strategy sources, and a rise in imports, especially consumer goods and electronics from China and South Korea. It may also lead to an increase in containers handled by the "New Kid on the Block", the DP World Posorja deep-water facility. Other key imports are deciduous fruits (apples and pears, plus grapes and apricots) from Chile.
In terms of exports, Ecuador's staples are bananas, shrimp and cocoa, plus pineapples and frozen broccoli, which are already in high demand around the globe. This position looks likely to continue, boosting volumes through the ports of Guayaquil and Puerto Bolivar, among others.
As Juan Trujillo, the Chief Commercial Officer at Contecon Guayaquil (operated by ICTSI) told Port Strategy: "There are three industries in which we are in the top three of the world."
"Ecuador is the number one exporter of bananas in the world (with around US$3.3 billion worth exported in 2019, equivalent to 22.6 per cent of all global exports – equivalent to an estimated 5000 TEU leaving the country's ports each week). We are number two for shrimp (worth US$3.7 billion in 2019, for a 21.1 per cent share, only trailing India's 24.9 per cent)" he explains, adding, "Plus, we are also strong in terms of cocoa, with many experts declaring ours is the best in the world."
In value terms, Ecuador is the second-biggest cocoa exporter in the world with around US$700million shipped out annually and is also strong in frozen broccoli and pineapple exports.
"WELL-RUN" TERMINAL IN GUAYAQUIL
Today, the vast majority of containers pass through the country's key port of Guayaquil, which is dominated by "one of the best and most well-run container terminals in all South America," according to one Ecuadorian Shipping Agency manager.
That "well-run" terminal is Contecon Guayaquil and it handled around 840,000 TEU in 2020, a three per cent increase over the 823,500 TEU moved during 2019, despite "difficulties" due to the "COVID-19 situation". In 2019, it was operating at 55 per cent of its overall annual capacity of 1.5 million TEU per annum. Highlighting its focus on reefer cargoes, such as bananas and shrimp, the facility offers 3,500 reefer plugs, believed to be the highest number on-terminal in South America.
In second place comes Terminal Portuaria de Guayaquil (TPG), which is operated by Chilean stevedore SAAM, and it handled 758,400 TEU in 2019 which is getting uncomfortably close, at 95 per cent, to its 800,000 TEU annual capacity. Last year, it handled 712,000 TEU, losing some cargoes to Posorja, but it still maintained a market share in excess of 30 per cent of the Ecuadorian market. Most of the Chinese carriers, Wan Hai and Cosco, plus Hapag Lloyd and CMA CGM, all call at TPG.
The next largest facility is Naportec SPA, a subsidiary of Dole Food Company, the American multinational agricultural corporation. It commenced operating the facility in 2004, under license from DIGMER, the general directorate of the Ecuador Merchant Marine. The terminal is known as Terminal Portuario Bananapuerto (TPB) and in 2020 it handled 289,250 TEU, up marginally from the 287.800 TEU in 2019. With an annual capacity of 400,000 TEU, it was running at around 73 per cent of capacity last year.
Fertisa Terminal Portuario (Fertisa) is the other facility and in 2019 it handled 93,000 TEU, equivalent to 62 per cent of its 150,000 TEU per annum ceiling. Fertisa is owned by the Chilean Wong family who are one of Ecuador's largest banana exporters, but in 2020 it lost much of its business to Posorja, meaning that throughput fell drastically to just 22,250 TEU. The only regular service left is King Ocean to Miami, via the Panama Canal.
MAINTAINING ITS COMPETITIVE EDGE
To keep its competitive edge in Guayaquil and increase its capacity towards two million TEU per annum, Contecon is undertaking improvements to its equipment roster and the quayside. It has just spent USD$30 million on equipment (new forklifts and extending the reach of two ship-to-shore gantry cranes) as well as dredging its berth down to 13.5m at high tide, according to Trujillo.
The largest vessel calling so far has been the mv MSC Aliya (365m LOA and 14,366 TEU capacity), although it was not at full capacity. The regeneration and refurbishment of two of Contecon's quay cranes gives an extra 10m of height and 6m reach, thereby transforming them into New Panamax gantries. Contecon now has six quay cranes, comprising four PostPanamax and two New Panamax, plus 23 RTGs and a range of supporting equipment and three mobile units, all deployed on one mile of berthing.
"As we are trying to keep ahead of the market we are also pleased to have been granted permission to make the first Free Trade Zone (FTZ) in Guayaquil and to have extended our terrain with an extra 15 hectares, taking us up to 150 hectares," explained Trujillo. "We gained this award in April 2021 and we are already designing the new facility. The idea is not just on the quayside but also to get even closer to our hinterland and add value to the supply chain. We have all the Maersk Line services calling, plus MSC and Seaboard Marine to the US East Coast," he adds.
However, another veteran Ecuador shipping consultant said that "Guayaquil does have its problems, namely, tidal restrictions and the fact that it is 70 miles upriver from the Pacific Ocean."
THE POSORJA OPTION
To try and resolve that, and to provide more capacity for Guayaquil and Ecuador as a whole, DIGMER opened a concession in 2015 for a deep-sea port at Posorja, some 70 miles upriver of the city of Guayaquil.
That 50-year concession was won by DP World and, after some teething problems, it finally opened for business in August of 2019, with three quay cranes. It handled 67,000 TEU during its first year of operation, which increased to 222,540 TEU for 2020, its first full year. In April 2020, a fourth ship-to-shore crane from ZPMC was added.
So far it only has the Hapag Lloyd and CMA CGM Eurosal, a north Europe service via the Panama Canal also calling in Chile and Colombia, but sources at Posorja say the terminal is "very close to securing a major Asian service, with an official announcement probably coming in early July".
A source close to DP World Posorja told Port Strategy that the terminal has a draft of 16.5m in the channel and 16m for its main berth (probably the deepest along the West Coast of South America). With this advantage it aims to become the key hub port for WCSA in the years to come, although delayed crane deliveries is an issue.
He pointed out that the maximum authorised draft today is 15.2m and that the largest vessel to call so far, a CMA CGM ship, needed 14.65m. Guayaquil is fighting back with draft and recent dredging plans seeing an improvement from 9.5m at high tide down to 12.5m at high tide.
Aside from Guayaquil and Posorja the only other concentration of containers in Ecuador is the Puerto Bolivar terminal, operated by Turkey's Yilport. It opened in 2017 and handled 96,000 TEU for a five per cent share of Ecuador's total box movement, which increased to 155,240 TEU in 2019 (seven per cent share) and then 178,032 TEU in 2020 (eight per cent share).
Puerto Bolivar also operates a large break-bulk terminal, specialising in steel and cement, as well as bananas. With world demand for what Ecuador has to offer growing, and consumer confidence also on the up, this small South American country looks like it is in for a decent 2021.
The major litmus test for the main passage of those containerised cargoes will be Posorja vs. Guayaquil and whether an Asian service switches this year. Watch this space.