The Port Authority of Valencia (PAV) has reduced its carbon footprint at the Port of Valencia by over 17% since 2008.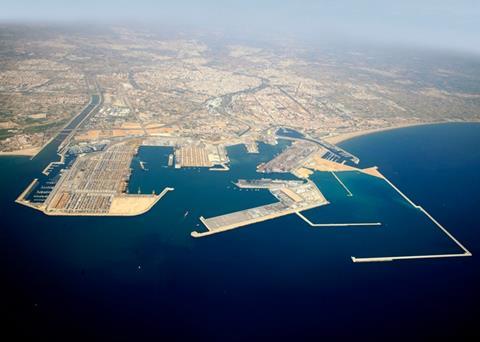 This reduction comes during a period where cargo traffic at the Port of Valencia increased by 14%, the data was presented at the international meeting of Environmental Solutions.
Federico Torres, safety and environment manager of PAV, said: "The methodology for quantifying the carbon footprint follows the requirements of ISO 14064-1: 2012, which makes to Valencia the first port in the world to verify its footprint under this reference."
"This methodology includes both emissions from PAV itself, as the concessionaires, ships and land transport, produced inside the port area of Valencia".
The decrease in carbon footprint means the Port Authority of Valencia has accomplished the commitments it voluntarily acquired with the signing of the World Climate Protection Initiative -C40, in 2008 in Rotterdam.
These results are the consequence of the commitment of the PAV for participating in national and international projects. The projects include Ecoport II, which has been implemented in companies operating in the ports of Valencia, Sagunto and Gandia to sensitize the community on the importance of integrating the port activity to sustainable development.
Alongside this is Climeport, European program led by PAV which has involved the main ports of the Mediterranean with the aim of contributing to mitigating the effects of climate change.
Mr Torres also explained: "The commitment of the PAV to harmonize the port activities with sustainable development has also led the energy efficiency increase of the enclosure by 25%. Specifically, in this period, energy efficiency has gone from a ratio of 8.76 kWh per tonne handled in the year 2008 to 6.60 kWh in 2014 ".
The PAV has some of the highest environmental certifications, such as the European ports environmental certificate PERS (Port Environmental Review System), the ISO 14001 and the European Certificate Management and Audit Scheme EMAS III (Eco-Management and Audit Scherne).
Book your place at the GreenPort Congress, taking place next week in Venice, to hear more solutions from reducing your carbon footprint. The full programme is available online.
Preferential rates are available for participants attending both the GreenPort Cruise and GreenPort Congress - book your place online today.
For more information contact the Events team on +44 1329 825335 or email congress@greenport.com.
Follow the event on Twitter @GPCongress.