The Yellow Sea area is a sub-regional powerhouse in China and home to some of the country's biggest container ports. AJ Keyes looks at the current strategy in play for the region
The Yellow Sea is an area of the Western Pacifi c Ocean located between mainland China and the Korean Peninsula. These coastal regions of China are very densely populated, consisting of more than 600 million people and some of China's major ports.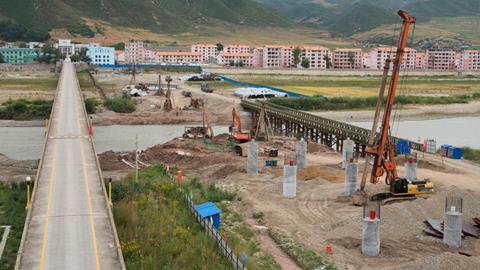 CONCERTED ECONOMIC GROWTH, CONDENSED REGION
Also located within the Yellow Sea Economic Basin (YSEB), defined as an area of around 300 miles of the Yellow Sea rim, are some of Asia's biggest and most important political and financial centres. For example, Beijing and Shanghai in China and Seoul in South Korea, while Tokyo in Japan is also only a short flight away. To the Chinese authorities it can be defined as an area of concerted economic growth in a condensed region.
According to official statistics from the People's Republic of China, there are more than 60 "mega-cities" within the immediate vicinity of the Yellow Sea, each with a population of more than one million people.
Unsurprisingly in such a key region of economic development and population, there are a number of ports, including Dalian, Tianjin and Qingdao. As Table 1 confirms, container traffic for these ports for the January to September 2021 period, along with other major facilities in China, has generally been strong.
Other ports in this region, such as Rizao, Qinhuangdao and Dandong, complete the Yellow Sea port picture.
On the other side of the coin, there are two ports in the Yellow Sea region which have recently had negative experiences; namely, the failure of Dandong, one of China's few privately-owned/developed ports and the continued volume declines for Dalian.
STATE-LED PORT CONSOLIDATION
In Q3 2020, following bankruptcy, Dandong Port was restructured into the Dandong Port Group. The original port operator was forced into a court-led restructuring process in Q2 2019, with reported liabilities of RMB66.7bn ($9.67bn).
Consequently, the Liaoning Port Group, part of China Merchants, has now taken control of this facility following a government recommendation (via the appointed administrators). The impact of this move has already been seen with plans to leverage its geographic location on the border between China and North Korea.
International press reports confirmed at the start of November 2021 that Dandong Port is utilising its geographic capability to serve cross-border rail traffic, which fuels speculation about the border between the two countries re-opening after being shut down in January 2020 due to COVID-19 concerns.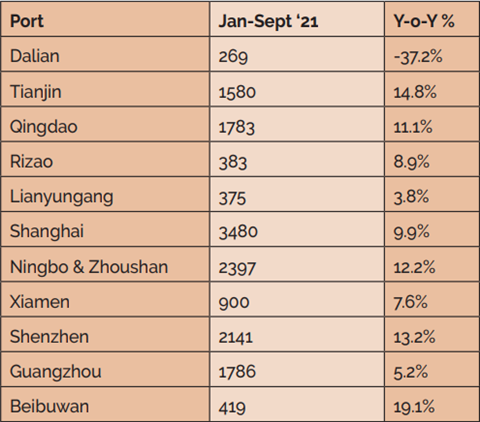 LINKS WITH NORTH KOREA RAMPING UP
A new procurement tender from the Dandong government from November 1, 2021 requested bids to manage construction of a new dual carriage road that will connect Dandong with Sinuiju in North Korea.
At the same time, international press reports sourced to the USA, state that rail freight shipments have also now commenced across the Yalu River border linking the two countries – representing potential cargo for Dandong, but also bringing aid and goods for North Korea as it continues to struggle with sanctions and economic difficulties.
Traditionally, China has supplied up to 90 per cent of North Korea's trade, with oil, fertilisers and machinery all key cargoes.
There is clearly a defined consolidation strategy in the Yellow Sea port region for China. China Merchants Group took control of Liaoning Port Group in 2019 and has continued the process, with Dalian Port and Yingkou Port both now part of a state-led strategy of placing more facilities under the same controlling organisation.
This initiative will make it more difficult to understand the exact competitive position in Dalian. As shown in Figure 1, to the end of September 2021 the port's year-on-year activity was down by -37.2 per cent and this followed a similar trend in 2020 when a decline in container throughput of -41.7 per cent saw 5.11 million TEU handled – much less than the 8.81 million TEU recorded in 2019.
Localised reports previously referenced container traffic shifting to nearby Yingkou as a factor in the decline in Dalian, so with Dalian and Yingkou ports now falling under centralised control, any joint cargo volume releases will make it difficult to ascertain exact trends in Dalian port in the future.
For China, stability within the YSEB is going to remain a key factor in continuing to target its aims of remaining a major political and economic force. The strategy seems to be firmly in place.