The topics on the programme at this year's GreenPort Valencia have been confirmed and the programme will focus on the theme of 'Profiting from green initiatives'.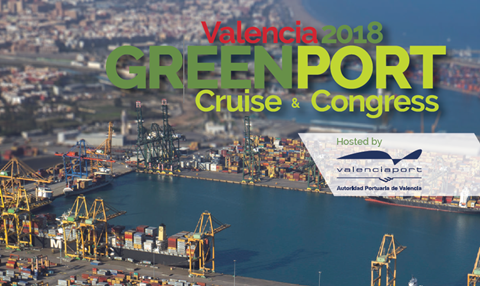 The programme topics are confirmed for GreenPort Cruise and Congress 2018 and the places are filling up quickly. Limited space remains, so if you have a project you would like to be considered for the programme, get in touch with the events team.
GreenPort Cruise will take place on 16th October 2018 and will cover themes such as Cruise Port-City-Commercial Port Relationships, Planning for the future and Port Reception facilities. There will be an emphasis on limiting emissions from ships while in port and ports' response to the next generation of LNG ships requiring bunkering infrastructure.
Congress will be held on the 17th-18th October and will address the following topics:
Policy measures
Meeting today's and tomorrow's major challenges
Workshop session – measuring your carbon footprint
Environmental charging schemes
Responsible supply chains
Green criteria to take a more prominent role in concession bids and renewals
Green technological R&D
GreenPort Congress 2018 will include a session on responsible supply chains which will include the end-to-end process, incorporating the views of the terminal operator, shipping company, logistics company, and end product. The conference attracts between 180-200 delegates representing 30 countries. The highest proportion of attendees are port authorities, terminal operators and ship owners (60%), which demonstrates that you will benefit from meeting the decision makers directly when attending GreenPort.
The provisional programme is scheduled for release at the end of this month, stay tuned for further updates.
Limited spaces remain on the programme, if you are interested in speaking at GreenPort, or simply attending as a delegate don't hesitate to contact the events team on +44 1329 825335 or email congress@greenport.com.