Kalmar has unveiled a new eco-friendly fast charging solution for electric powered shuttle and straddle carriers, the Kalmar FastCharge.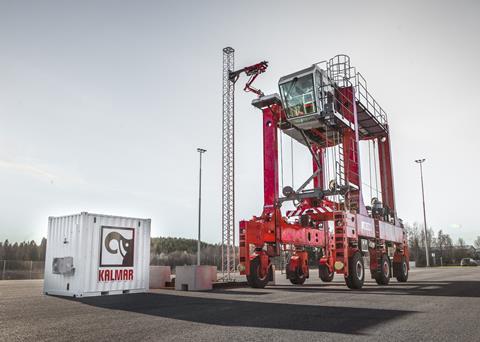 FastCharge is NOx and CO2 emissions free with low operational costs. It can be applied to both manual and automatic machines.
Henrik Häggblom, R&D manager, from Kalmar Horizontal Transportation business line, said: "It has been an excellent year in our development, and we are proud to introduce our FastCharge solution."
He continued: "It is clean, has low emissions and produces low volumes of noise. It is based on the same charging technology which is already in use (electric busses), this means it is proven and will be able to be adapted across many existing terminals."
The sustainable model has modern Lithium-ion (Li-ion) batteries which will enable fast charging. Instead of charging overnight the process will take place for minimal periods of time at multiple occasions throughout the day.
Mr Häggblom continued: "It has very high charging power - up to 600kw. It will take up to five minutes to reach full power but having 100% power is not the solution. We aim to keep the carriers and shuttles at 40-95%."
The batteries should last for ten years and the 40-95% perfect charging zone is important in ensuring the batteries last this long and are not overworked.
"This technology makes the charging process smooth, as there is no need to take the machine out of operation for battery swapping. Neither is there a need to invest in battery swapping stations and extra batteries, said Dr. Tero Kokko, vice president at Horizontal Transportation Kalmar.
Book your place at the 2016 GreenPort Congress to hear solutions for reducing emissions in the port area.
Contact the Events team on +44 1329 825335 or email congress@greenport.com. Don't forget to follow the event on Twitter @GPCongress