With still more than two months to go, delegates from across the world, including Australia, Malaysia and Africa, as well as from far and wide across Europe have already confirmed their places. Book now to join them for a highly innovative and interactive programme offering unbeatable knowledge sharing and networking opportunities.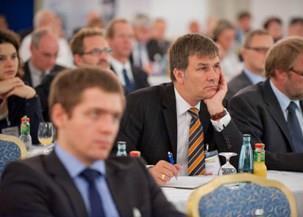 Entitled 'Creating Partnerships for sustainable development', this year's GreenPort Cruise and Congress programmes are designed to be involving and interactive and will equip participants with knowledge and practical information on reducing emissions and other ecological innovations together with sustainability recommendations.
This year's host, the Port of Amsterdam, believes that nowadays issues are too complex to fix on their own and actively seeks dialogue and partnerships with their customers, civil society organisations, knowledge institutes and authorities to promote sustainable growth. This year's programme reflects these beliefs and contains many examples of working in partnership with stakeholders.
Highlight of the GreenPort Congress presentations include:
Keynote: Jan Peter Balkenende, Chair, Dutch Sustainable Growth Coalition and Partner, EY
How to create total value and work in partnerships to create responsible supply chains: Denise Pronk, Programme Manager Corporate Responsibility, Schiphol Airport
Role play: Public stakeholder meeting: Port expansion and development
Malte Siegert, NABU, Chris Woodridge, University of Cardiff, Charles Haine, Technical Director, Maritime Environmental, sustainability & climate risk solutions, WSP Parsons Brinckerhoff, Rosa Mari Darbra, Barcelona University, Nicola Jenkins-Graham, Associate Director (Environment, Quality, Health & Safety), Idom Merebrook.Representing port authorities, terminal operator, NGOs, local community, CSR advisor and other stakeholders, the statements, arguments and propositions will be based on the principles of stakeholder involvement and the ideals of sustainable development of a port. The participants will take on opposing roles to their current job function with the aim of giving delegates the opportunity to interact and gain experience of the decision-making process involved in the sustainable development of a port. At the end of this 'public meeting', the Congress participants/local stakeholders will vote on the key issues and the outcomes will be discussed.
Impact of the energy change: How to make and manage the change: Dr Olive Weinmann, Managing Director, Vattenfall Europe Innovation
Workshop: Explaining how terminal operators and port authorities can align their methods and responsibilities on carbon foot printing: Alan Lewis, GLEC Director, Smart Freight Centre, Conor Feighan, Policy Advisor, FEPORT, Kerstin Dobers, Fraunhofer, IML, Stef Capelle, Security Manager/PFSO & Environmental Manager, Hutchison Ports Europe Container Terminals
GreenPort Cruise presentations include:
Welcome address - Growth of cruise: blessing or curse? Alma Prins, Cruise Director, Port of Amsterdam
Amsterdam is a prime destination for sea and river cruises (Port of the year 2015 and Destination of the year 2016), receiving 900,000 passengers in 2016.The benefits for the city and the region are great but it also brings big challenges for sustainable development.
Port-City Relationships – Stakeholder initiatives for sustainable growth of cruise ports: Stavros Hatzakos, General Manager, Port of Piraeus
Creating a Mediterranean LNG Cruise Port hub: Jordi Villa, Head of Environmental Affairs, Port of Barcelona
Members of ESPO and FEPORTs qualify for special rates!
For further information contact the Events team on +44 1329 825335 or email congress@greenport.com.
Follow the event on Twitter @GPCongress.