A six-month global trial of biofuel has been launched in Singapore aiming to scale-up its wider adoption
The trial involving CMA CGM Group and the Maritime and Port Authority of Singapore (MPA) involved bunkering the 10,640 teu APL Paris, the first of the group's vessels to be refuelled with biofuel on 23 February.
Ship-to-ship bunkering was conducted alongside during container loading and discharging operations before the vessel sailed on the Asia-South America rotation of the Pacific East Coast 2 service.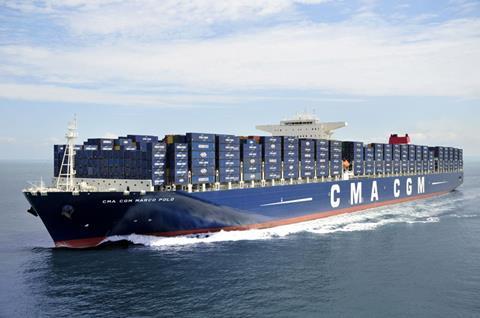 The six-month global trial will involve up to 32 containerships running on different blends of biofuel to measure CO₂ and NOx emissions to obtain a trend analysis, which will be shared with the respective flag administrations, including MPA. Some of these vessels will be fuelled in Singapore with B24 biofuel, which comprises 24% used cooking oil methyl ester and can reduce carbon emissions by 21%.
Ranging from ship sizes between 2,200 and 10,640 TEUs, these vessels on trial will serve several trade lanes including Asia-South America, Asia-Africa, Asia-Oceania, Asia-Mediterranean, North Europe–Oceania and North Europe-North America.
The group has chosen to invest in dual-fuel vessels that run on LNG, avoiding up to 99% of atmospheric pollutant emissions, and the engine installed on these vessels is capable of using BioLNG (reducing 67% in CO₂ emissions). In the coming years, the engines will use synthetic methane, including e-methane. The CMA CGM Group already has a fleet of 25 e-methane ready vessels in service and will have a total of 44 such vessels by the end of 2024.
Biofuel, together with alternative fuels such as LNG and biomethane among others, will make up 10% of the CMA CGM Group's energy mix by 2023.