A new initiative has launched encouraging firms in the transport and logistics sectors to reuse their packaging.
Bolloré Logistics created 'REcycle' to help customers check asset availability and manage stock worldwide using a dedicated web and mobile application.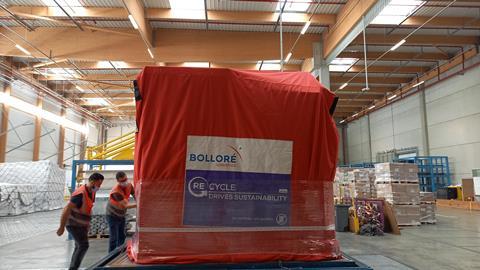 To limit the use of single-use plastics, several types of packaging are used, each one having been rigorously selected. In particular, reusable thermic isolation kits for containerised transport as well as pallet covers are used for pre and post merchandise shipments.
"We created REcycle to help our clients to considerably reduce their single-use consumables," said Odile Maarek, CSR director at Bolloré Logistics.
"As an example, using reusable thermic isolation kits for 100 shipments will reduce plastic use by 900 kg. Furthermore, it also complies with the new regulations that will ban single-use plastics in transport and logistics. In France it will be banned from transport & logistics activities by 2040," she added.
The REcycle offer forms part of Bolloré Logistics' CSR [Corporate Social Responsibility] Programme 'Powering Sustainable Logistics', launched in 2018 to provide sustainable supply chain solutions to its clients.
In line with its objective to reduce CO2 emissions from transport services by 30% by 2030, Bolloré Logistics encourages customers to integrate sustainability into the management of their activities.