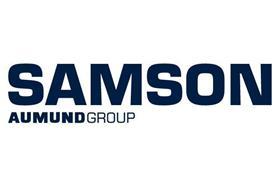 Latest successfully installed and tested SAMSON Mobile Shiploader for handling cement clinker. Ready to handle. Our engineering and project management team did it again.
The designs are based of original designs designated to meet specific client requirements and needs.
A Shiploader system suitably designed to receive bulk materials, which will be unloaded at the Quay area via the Client's 40 tonne trucks. The Shiploader will discharge direct to vessels typically up to 64,000DWT.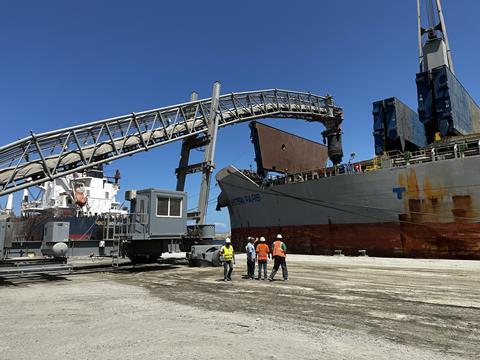 Two Material Feeders are integrated to the Shiploader chassis, one located either side of the main boom belt allowing for two trucks to discharge to the Shiploader at the same time.
The fully mobile chassis of the SAMSON Mobile Shiploader allows it to be operated anywhere in the port. Different designs match every type of vessel from barges to post-Panamax size.
The Samson® Material Feeder is a high-performance truck unloader with proven reliability for continuous process industries. It receives bulk materials directly from tipping trucks and loading shovels, providing a buffer storage capacity and a controlled discharge rate. Installed above ground, with no need for deep pits and expensive civil engineering works, it is a flexible alternative to traditional underground hoppers. The wide belt design principle used allows any material to be reliably conveyed without the risk of bridging or blockage. Tracked or wheeled versions are available.