Extensive, internationally proven range of mobile loading and unloading systems for handling bulk materials in different applications in a variety of industries. From potato growers to diamond mines and everything in between.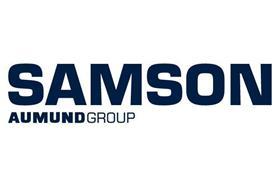 Flexible I Cost-effective I mobile solution I Environmentally friendly I Dust free = NO MATERIAL LOSS I No civil works I Reduced energy consumption I Flexible positioning I Robust design

OUR PORTFOLIO
•The SAMSON Eco Hopper is an ecologically sensitive solution fulfilling all needs for the efficient import of dry bulk cargoes.
•The Samson® Material Feeder is a high-performance truck unloader with proven reliability for continuous process industries.
•SAMSON Mobile Shiploader allows it to be operated anywhere in the port. Different designs match every type of vessel from barges to POST- Panamax size.
•The SAMSON mobile STORMAJOR® opens up new possibilities for stockpiling, barge loading and rail car loading.
•Conversions & retrofitting also available for AUMUND and non- AUMUND Equipment

WHY PUT YOUR TRUST IN US?
Since the mid-1960s, SAMSON Materials Handling Ltd has been recognised as THE SPECIALIST in mobile solutions for the handling of bulk materials.