Less pressure, less weight, same benefits!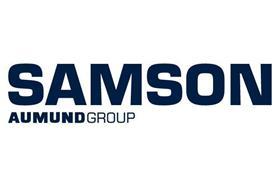 The SAMSON Eco Hopper is an ecologically sensitive solution fulfilling all needs for the efficient import of dry bulk cargoes. The hoppers are designed to suit the characteristics and flow properties of virtually any bulk material.
To enhance the product versatility and to accommodate specific customer needs, such as requirement to operate on an old or very narrow quay, SAMSON's R&D Team have conceptualised a new design for a low ground pressure Eco Hopper.
All SAMSON Eco Hoppers are fitted with state of the art dust suppression filters for the lowest possible environmental impact benefiting both port operators and the surrounding environment around the port location.
Functions and characteristics:
Extensive dust control features (flex flaps, dust seals, dust control filters, air compressor)
Multiple discharge options: to conveyor, to truck, via telescopic chute, through ancillary Material Feeder
Multiple travel options: rail, static or pneumatic tyre mounted, or powered and towable travel
Increased safety features (level detectors, strain gauges, structural design to withstand overload to top of skirt)
Robust design (top shroud, grab impact grill)
Benefits:
Minimises dust escaping
Adaptable to a range of onwards processing or logistics requirements
Can be used on non-dedicated quays and moved off the area when not in use
Flexible positioning to suit unloading vessel
Ability to work with a wide variety of materials with differing characteristics
We sell solutions!