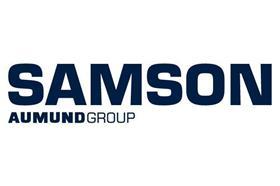 Highly flexible mobile Material Feeders that can be wheeled or tracked mounted The Samson® Material Feeder is a high-performance truck unloader with proven reliability for continuous process industries. It receives bulk materials directly from tipping trucks and loading shovels, providing a buffer storage capacity and a controlled discharge rate. Installed above ground, with no need for deep pits and expensive civil engineering works, it is a flexible alternative to traditional underground hoppers. The wide belt design principle used allows any material to be reliably conveyed without the risk of bridging or blockage. Tracked or wheeled versions are available.
Functions and characteristics:
Discharge rate control (levelling blade and rotating teaser for extremely cohesive materials)
Wide apron belt design
Trapezoidal shaped apron bars at every chain pitch
Flexible side seals
Different body and entry designs
Dust and fume control enclosures are available as options
Benefits:
No deep pits or underground hoppers
No civil works, giving flexibility of location
Receives directly from a variety of vehicles
Buffer holding capacity ensures continuous outgoing feed Handles dry and dusty materials
Is just as adept at handling wet and sticky materials
Reduced energy consumption
Easy to maintain and service
Wide apron belt design combines strength of a steel apron feeder with cleanliness of a belt feeder
Flexible side seals prevent spillage and loss of material
We sell solutions!