Recently added to our global portfolio is the installation of an innovative and custom design shiploading system for Maersk at Port of Salalah in Oman.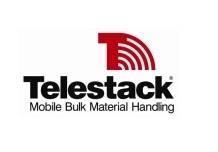 Critical to the installation were mobility, dust containment and efficiency all major contributions as to why Telestack was selected to provide the customized shiploading solution.
Port of Salalah are recognized globally as a leading transshipment hub positioned among the world's top ports and continues to play a vital role in the economic future of Oman. Strategically located at the major East-West Shipping Lane, the Port of Salalah is viewed as the region's best located port in order to access the Middle East, Indian Subcontinent and East Africa. The Port (of which APM Terminals holds a minority stake) is currently undergoing an expansion which will double the quay length, and increase dry bulk capacity to 20 million tonnes annually.
The commissioning includes two shiploading systems, each suite comprises of a TB60 All Wheel Travel Shiploader fed by a Titan dual-feed All Wheel Travel 800-6 Bulk Reception Feeder. The equipment is designed to load limestone, gypsum and cement clinker to Handymax, Panamax / Post Panamax vessels. The material which will be handled is free flowing, dusty and abrasive so it was vital that Telestack engineers ensured that the equipment would be long-lasting and fully functional throughout the project. To find out more, download our case study!
CASE STUDY HIGHLIGHTS
COUNTRY / REGION: Oman
END USER: Port of Salalah
PRODUCT: 2 x TB60 AWT Shiploaders & 2 x Titan AWT800-6 Bulk Reception Feeders
APPLICATION: Shiploading
MATERIAL TYPE: Limestone, gypsum and cement clinker