Many delegates at GreenPort Congress taking place in Newcastle (Australia) were keen to hear about green financing options for the maritime sector and they were rewarded this morning with a session devoted to the topic.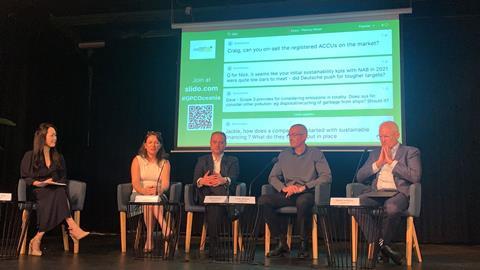 Sustainability advisor Jackie Spiteri explained the types of options available. "You can have what's known as green financing which is directed specifically at those projects that have a green outcome or actual sustainability outcomes," she said.
This could be a green building for a port or a terminal, behind-the-meter renewables, or EV transition of vessels and vehicle fleets. Those funds are directly assigned to those eligible green projects. "You can also have general corporate purpose facilities that are directly linked to sustainability KPIs (key performance indicators)… you can integrate sustainability and weave that further into the fabric of your business," Ms Spiteri said.
The Port of Newcastle has undertaken three sustainability-linked transactions in the last two years. The organisation's CFO Nick Livesey said, "Now more than ever we're seeing lenders use their power and influence to drive sustainable behaviours and actions".
"That's a good thing, it's positive and I think the key message is, 'banks might be doing it now, but it will broaden into other areas like customers and suppliers' and we're already seeing it with insurers."
Sustainability-linked lending involves attaching targets or KPIs to a loan instrument that impact the price of that loan. "For example, you might have a target to cut Scope 1 emissions over a number of years… so you'll have staged [emissions] reductions over that seven years," Mr Livesey said, adding that challenging targets are advisable but should also be achievable.
Overall, targets tend to be across broad categories like environmental, social and diversity and inclusion.
For $515 million in bank debt in April 2021, Port of Newcastle had five KPIs linked to the loan: reduction in Scope 1 and 2 emissions, screening suppliers for modern slavery, providing internships for Indigenous students, mental health training for staff and achieving improving status with Sustainability Advantage (NSW Government agency).
That first loan did actually come in for a lot of criticism in the media mainly for NAB (National Australia Bank)… but the criticism was partly that NAB shouldn't be funding a company that is part of the coal supply chain. "But to me that misses the point of the social responsibility of banks," Mr Livesey said. "It also misses the point of what we're trying to do at the Port of Newcastle which is diversify the business.
"Those banks aren't funding an expansion of coal," he said.
As far as including non-coal revenue targets as part of the loan, Mr Livesey pointed out that "you can only achieve so much in three years" especially in infrastructure. Later loans for the port did include annual targets for diversification away from reliance on coal revenues, and targets around Scope 3 emissions.
Why is it happening?
Banks and financial institutions are increasingly required to justify their investment choices based on sustainability and environmental risk, according to Mr Livesey. He said banks could simply walk away from investment in certain industries and in some areas are getting a lot of pressure from activist groups to do so. "But is that really fair?" he asked.
"After profiting for so long out of these industries to just up and walk away when it gets a bit hard and what are the economic and social impacts?"
Banks often find themselves sandwiched in the middle and their best option is to use the influence they have to create change, according to Mr Livesey. In answering the question of whether green financing works, he said that cynics may see it as a public relations exercise and there may be some truth to this.
However, this is now getting so commonplace, having sustainability terms in loan instruments is becoming standard. "To that end, it will apply to everyone and then frankly, do you care about the motivation?" he asked.
"It still gets the action happening," Mr Livesey said. "If everyone is cutting their Scope 1 and 2 emissions, influencing their supply chain on Scope 3, pushing diversity and inclusion, then the change is happening and for the better," he said.
The key message of the morning's presentations was to expect green financing to continue.
David Jenkins, global head of sustainable financing at NAB said, "It's a very interesting space, it's a space that has gone from being very niche… to now almost becoming mainstream. "What we're seeing is the focus on sustainable finance globally is ratcheting up," he said.
Banks and financiers are increasingly focused on ESG risks and sustainability issues of the borrower. "You've got investor pressure, community pressure and stakeholder pressure across the board so this is a theme that will continue and will continue to gain traction globally," Mr Jenkins said.