The second day of the GreenPort Congress taking place in Newcastle (Australia) delved into a range of topics including ESG (environmental, social, corporate governance), green finance, multimodal supply chains, decarbonisation regulations and projects, and digital tools.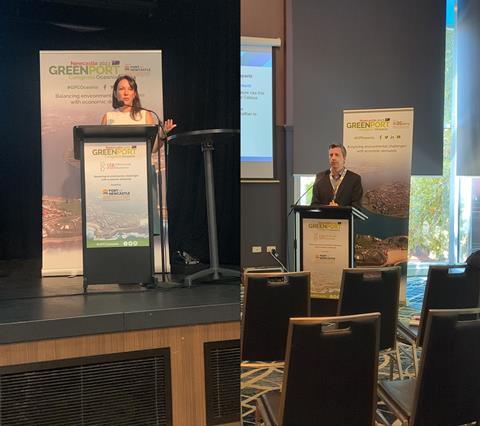 A key theme emerging from discussions was the influence of sustainable finance and decarbonisation regulation on the development of green ports.
Sustainability advisor Jackie Spiteri set the tone for the day with her presentation exploring how maritime organisations can embrace and integrate ESG into their corporate business model. "ESG really has emerged from the finance sector as they seek to be able to understand organisations on something other than their financial performance," Ms Spiteri said.
She believes ESG provides a robust framework for stakeholders to be able to assess the risks and opportunities of their investments. "The finance sector provides an incredibly powerful tool to evoke and enable change," Ms Spiteri said, by imposing requirements or encouraging better environmental performance."
She shared a number of ways ESG can create value for an organisation: facilitating topline growth, reducing costs, minimising regulatory and legal intervention, increasing employee productivity and optimising investment and capex. "ESG creates that long-term thinking, so as you're making significant investments, it triggers you to consider what is that investment going to look like in a number of years' time," Ms Spiteri said.
Where is the best place to start with ESG? "I believe that materiality is the best place to start, to make sure you're focusing your efforts and your resources on those sustainable issues that are material to your organisation," she said. A good starting place is to consider the environmental footprint of your organisation, such factors as proximity to communities or the natural environment around your operations.
"It's really about thinking about what you can control and influence," Ms Spiteri said, adding that stakeholder expectations are critically important because what's important to them may be different from what you can actually influence.
However, key material concerns for the maritime industry would include climate change, diversity and inclusion, and biodiversity. It's also important to consider measurement, reporting and disclosure, according to Ms Spiteri. "You can have all these wonderful initiatives but unless you're measuring and monitoring them you're not able to consider how you're managing that nor how you can communicate your performance against those," she said.
The regulator's view
The Australian Maritime Safety Authority (AMSA) was on hand to provide an update on regulation and the remarkable changes we've seen in the maritime sphere in decarbonisation in recent years.
AMSA's manager of environment and strategy, Matt Johnston explained the position the industry was in 10 years ago, on an "unsustainable emissions trajectory".
He said the catalyst for decarbonisation in shipping was the Paris Agreement in 2015 and subsequent greenhouse gas emissions reduction target of 50% by 2050 set by the International Maritime Organization (IMO).
"There will be a revised strategy negotiated and agreed this July. The new goal will almost certainly be around full decarbonisation by 2050, so the efforts are going to have to ramp up," he said.
AMSA recently began implementing regulations to achieve the IMO's short-term measure, to reduce emissions by 40% by 2030. "We've now got new requirements around an Energy Efficiency Index and Carbon Intensity Indicator. This is a goal-based approach so regulators aren't going to be prescribing how these efficiencies are gained," he said, adding that implementation is through Marine Orders.
"The short-term measure is really just a warm up act to get us through the next few years and make some emissions cuts that we know we need to start on straight away," Mr Johnston said.
The IMO is now turning its attention to other mechanisms, he said, such as market-based measures, locking in arrangements for alternative fuels and fuel standards. "We won't get to green ships if we don't have green ports," Mr Johnston said.
Onshore power will go a long way to reducing ship emissions, he believes, as well as green corridors, vessel speed optimisation - all topics taken up enthusiastically by other speakers throughout the GreenPort Congress.