Yesterday's GreenPort Congress being held in Newcastle, Australia, hosted a session on net zero carbon cruising.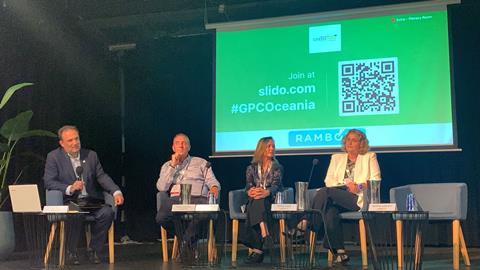 Cruise Lines International Association (CLIA) Australasia managing director, Joel Katz, was on hand to present the organisation's approach to climate action.
CLIA members are building three pillars: reducing carbon footprint on ships, investing in advanced environmental technologies onboard and partnering with ports and destinations on sustainable tourism.The cruise industry globally represents 294 ocean vessels or less than 1% of the global fleet.
"We are in fact just a small part of maritime and tourism but we have a growing group of partners," Mr Katz said.
When the sector was shut down due to the pandemic, in Oceania alone the lost economic opportunity for local businesses was estimated at $10 billion and 25,000 jobs.While ship building was also impacted, Mr Katz said CLIA cruise line members are investing billions in new ships and new technologies on the path to net zero. "Seventy-five new ships will be delivered over the next five years, the vast majority of which are being built by CLIA cruise line members and they represent the most innovative and efficient ships to come on the market," he said.
CLIA members have also committed to equipping their vessels to connect to shore-side electricity facilities wherever available at ports "as soon as possible but no later than 2035", according to Mr Katz. "Right now, 40% of global capacity is already fitted to operate on shore-side electricity, which is a 20% increase over the last year. "Of newbuild capacity, 98% is either committed to be fitted with shore power or be configured to add shore power in the near future. "But… only 29 ports around the world currently offer us the ability to use shore power in at least one berth," he said.
Mr Katz said the cruise sector needs investment in portside infrastructure but appreciates "this is complex, we know it's expensive and it involves many players".
World-first for NSW
Taking up the call for shore power is the Port Authority of NSW. The organisation will deliver a world-first 100% renewable electricity shore-powered precinct and first shore-powered cruise terminal in Southern Hemisphere. These developments have the capability to address local air quality and noise, and carbon emissions issues.
Shore power will be one of the biggest contributors to the port authority achieving its goal of net zero emissions by 2040 with a focus on Scope 1 and 2 emissions (and 75% emissions reduction by 2030). CEO of the Port Authority of NSW, Philip Holliday said, "It will be the first bulk precinct in the world to operate with that capability".
The port authority will provide 100% renewable shore power for cruise and bulk terminals at White Bay and Glebe Island by 2024. It is investing $60 million in renewable shore power in the region, reducing ship carbon emissions by 14,000 tonnes per year or the equivalent of planting 70,000 trees. "Arriving at this point you could say has been a long and arduous journey," Mr Holliday said. "Eventually, it comes down to a change of mindset. It comes down to a realisation that actually we have to take this step… for local reasons and global reasons. And as soon as that realisation dawns on you, you stop thinking about feasibility studies. "This is the right thing to do and we're determined to do it quickly and… we're determined to do it first," he said.
Mr Holliday confirmed the port authority has letters of intent from cruise lines and from CSL and Cement Australia, in regard to uptake of the new shore power facilities