The 2022 GreenPort Oceania Live in association with Port of Newcastle, will be streamed on Monday 14th November 2022 from 12:00-13:00 AEDT.
The session features an expert panel discussing 'The Risks of Climate Change for Ports in the Maritime Sector. The conversation started at GreenPort Oceania Live will be continued at the inaugural in-person conference in Newcastle from 15th -17th February 2023 where options into the challenges that are identified within the webinar will be presented and discussed.
Adrian Sammons, Founder and Managing Director, AMSTEC will be discussing the risks and opportunities specifically for low lying Pacific Island Nations where physical risk is more prominent. Physical risks resulting from climate change can be acute (driven by an event such as a flood or storm) or chronic (arising from longer-term shifts in climate patterns), presenting increasing financial risks including damage to assets, interruption of operations, and disruption to supply chains. Within his presentation Adrian will identify the key challenges of physical risk for Pacific Island ports who are among the most vulnerable in the world to the impacts of climate change due to the confluence of geographic, demographic and socioeconomic factors.
Dr Scott Kelly, Chief Economic Advisor, Parliamentary Commissioner for the Environment New Zealand will present on Economic implications of climate change including both risks and opportunities. Climate change and its impacts threaten the bottom line of ports in a variety of ways including damage to port infrastructure, temporary port closures and disruption to the supply chain.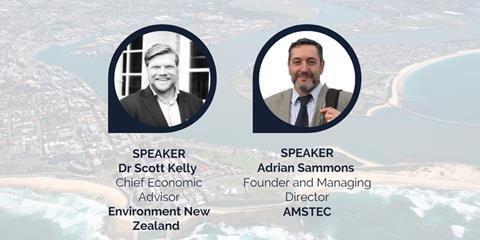 Adrian has over 30 years' experience in shipping, ports, and transport industries and in 2005 established a transport economics consultancy; AMSTEC Pty Ltd, which has completed many transport related projects worldwide. Maritime development in ports and shipping have been a significant speciality of Adrian's career and has successfully completed over 50 projects, many in the Asia-Pacific region. These have included Port Master-planning, demand forecasting, mapping supply/value chains and port-hinterland connectivity, institutional management reform, port productivity, stevedore concessions, port infrastructure design, international and coastal shipping development and river/inland waterway ferry service start-ups and yacht marina design, green-port development, decarbonisation of shipping, and port operational sustainability.
Scott Kelly is an experienced researcher who is committed to working with stakeholders to create change towards a more sustainable future. He has spent the last 15 years working alongside organisations on the development of analytical tools, frameworks and scenarios to help understand impacts, mitigate risks and develop strategies to improve business outcomes. Combining his strengths in both quantitative and qualitative approaches, Scott has worked closely with public, private and not-for-profit organisations across Europe, Australia and New Zealand to create change for a better world. Working directly with some of the world's largest organisations Scott has had the opportunity to use and apply real-world data to solve complex problems and to see these solutions put into action.
View all speakers here: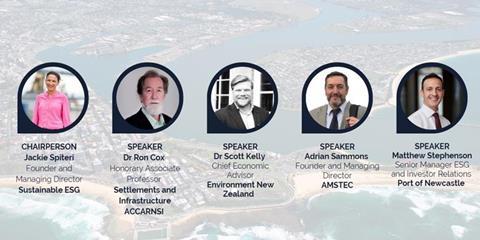 Sign up today for this free to attend online session and don't miss this valuable opportunity to learn and engage with our panel of experts discussing 'the risks of climate change within the port sector including technical implications, economic implications and traditional risk & opportunities in relation to mainstream ports and low-lying Pacific Island Nations.