Dr Ron Cox, Honorary Associate Professor Civil and Environmental Engineering, Convenor Australian Climate Change Adaptation Research Network for Settlements and Infrastructure ACCARNSI and Matthew Stephenson Senior Manager ESG and Investor Relations Port of Newcastle to present at GreenPort Oceania Live on 14th November 2022 from 12:00-13:00 AEDT
GreenPort Oceania Live in association with Port of Newcastle, will focus on 'The Risks of Climate Change for Ports in the Maritime Sector'. This webinar will demonstrate the challenges ports face with a follow up at the in-person event on 15-17 February on the options available to combat these challenges.
Ports are at increasing risk from the impacts of climate change; learn from Dr Ron Cox as he sets the scene regarding the technical implications of climate change for the maritime sector.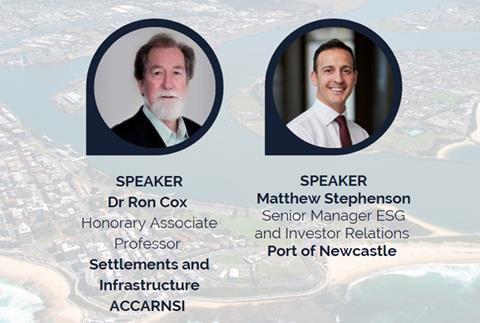 Matthew Stephenson Senior Manager ESG and Investor Relations, Port of Newcastle will present on the Risks and Opportunities specifically for Port of Newcastle focusing particularly on transition risk and diversification. Port of Newcastle is committed to driving the principles of sustainability throughout its operations, internal culture and the way it engages with customers and communities, diversifying its trade into areas such as hydrogen. Transition risks can occur when moving towards a less polluting, greener economy Matthew will demonstrate what these risks are for the Port of Newcastle.
Ron Cox is a longstanding PIANC A&NZ Board Member - who has also concurrently represented PIANC on Engineers Australia National Committee on Coastal and Ocean Engineering (NCCOE). Ron has generously brought his more than 40 years of professional, academic and organisational experience in coastal, ocean, environmental engineering and climate change adaptation to his work as a PIANC A&NZ Board member, as a member of PIANC's Permanent Task Group of Climate Change (PTGCC), the Environmental Commission (EnviCom) and of Co-Com – PIANC's International Co-operation Commission.
Matthew Stephenson has worked in Sustainability for over 12 years, after completing a Master's degree in Sustainability at the University of Leeds. Matthew started his career at an award-winning sustainability charity in London, looking at how large organisations can help drive sustainable change through their supply chains, helping them create and deliver ESG initiatives in a meaningful way. Later focusing on sustainability in the built environment and most recently building ESD, helping design and certify some of Australia's biggest institutional buildings against ISCA, LEED, Green Star and NABERS ratings.
View all speakers here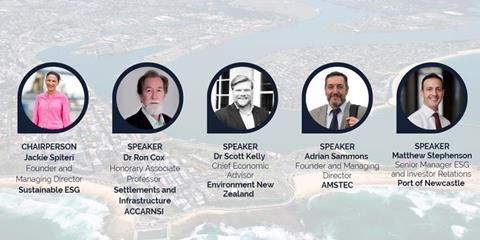 Sign up today for this free to attend online session and don't miss this valuable opportunity to learn and engage with our panel of experts discussing 'the risks of climate change within the port sector including technical implications, economic implications and traditional risk & opportunities in relation to mainstream ports and low-lying Pacific Island Nations.