Mercator Media Ltd, organisers of GreenPort Congress & Cruise are pleased to announce that the Port of Newcastle will be hosting the inaugural GreenPort Congress Oceania 2023. The conference will be held for the first time in Newcastle, Australia from the 15th to 16th February 2023 and concludes with a half day port tour on the 17th February.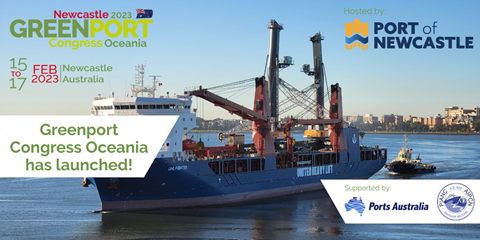 Port of Newcastle is Australia's deepwater global gateway, the largest on the nation's East Coast and is committed to driving the principles of sustainability throughout its operations, internal culture and the way it engages with customers and communities and the first port in Australia and New Zealand to become a member of the International EcoPorts network. Mercator Media is a Business to Business media company serving niche markets delivering valued business channels through its events, magazines and online services specialising in the Marine industry, and providing their clients with a joined-up approach. They have a wealth of experience in running events that provide a specific platform for discussion, stimulating best practice and cooperation all with an end goal to integrate sustainable development and to improve performance.
GreenPort Congress & Cruise has been running for almost two decades in Europe and host ports include Hamburg, Barcelona, Venice, Amsterdam, Valencia, Oslo, Piraeus and most recently Antwerp-Bruges. This is the first time the conference will be held in the Oceanic Region. GreenPort Congress & Cruise brings together the whole port community from environmental managers and planners, terminal operators, shipping lines and owners through to logistics companies. Delegates come from all over the world and therefore this is an ideal international forum for the exchange of information on the latest in sustainable environmental practice and emerging legislation. The Conference raises opportunities for maritime ports and terminals to reduce their carbon footprints whilst becoming more sensitive to the environmental considerations, which are vital to future success.
Andrew Webster, Chief Executive of Mercator Media commented "We are pleased to announce the launch of GreenPort Congress Oceania and look forward to bringing speaker and delegates from the Oceanic region and beyond to learn about the latest sustainable developments and environmental practices"
Port of Newcastle Senior Manager Investor Relations and ESG, Matthew Stephenson said "Port of Newcastle is proud to host the inaugural GreenPort Congress Oceania. Sustainability is at the core of our business as we work to create a safe, environmentally and socially responsible port of the future. We look forward to welcoming leaders, experts and innovators of the industry from near and far to beautiful Newcastle in 2023."
GreenPort Congress Oceania is thrilled to announce that the inaugural edition of the conference will be chaired by Christopher Wooldridge, Science Coordinator EcoPorts EcoSLC, and Visiting Research Fellow, Cardiff University, UK and current chair of GreenPort Congress & Cruise - Europe. Christopher states "The international port sector is uniquely-placed to encourage a coordinated approach between the wide range of stakeholders to the pressing challenges of climate change and overall sustainability. Global, cross-boundary perspectives are essential if both worldwide and local solutions are to be implemented. GreenPort Oceania is a timely catalyst to facilitate such collaboration based on the exchange of knowledge and experience specifically focussed on identifying practicable, time- and cost-effective options. I am delighted to have been invited to work with the Congress network of port professionals, industry representatives and academia in delivering the program."
This is a 2 ½ day conference which includes a welcome address, keynote speakers and various sessions and working groups, with ample opportunity to network during the refreshment and lunch breaks. Further opportunities for meeting up with colleagues and industry partners will be available at the Welcome Reception and Gala Dinner cumulating in the Port Tour all hosted by Port of Newcastle and included in the delegate package.
The details of the programme topics will be announced shortly and for more information, please contact the events team on +44 1329 825335 or email congress@greenport.com