Carbon capture, usage and storage (CCUS) projects are the building blocks on the way to climate neutrality, said Ralph Guldberg Bjørndal, senior chief project manager, ports, marine & coastal, at Ramboll.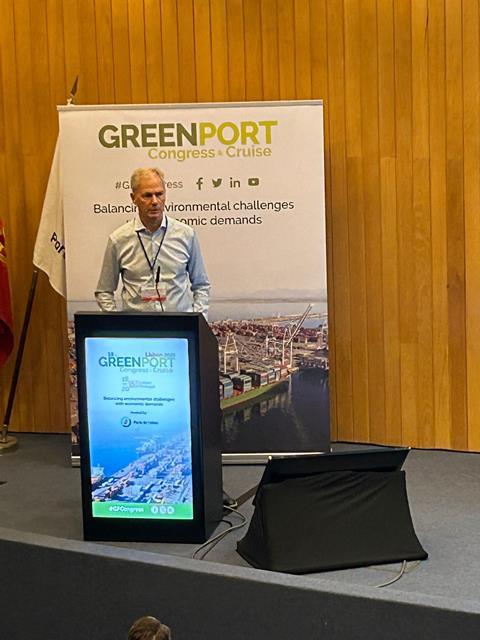 Speaking at the GreenPort session on carbon neutral ports, he said that CCUS provides a solution in situations or cases where CO2 emissions are very difficult to reduce. Shipping offers a more flexible and cost-effective alternative to onshore pipeline networks, with lower upfront costs and wider geographic spread in supply chains – and ports are essential as the entry point to make CCUS feasible and for shipping the CO2 out to the final destination, said Bjørndal.
He described the need in such ports for intermediate (buffer) storage so that the liquefied CO2 can be stored before being exported to the storage area – for example, in old oil & gas fields in the North Sea that are no longer in use.
Larger vessels for CO2 transport would be more economic but many ports have limited draft available, so smaller tankers would have to be used in such cases to transport the CO2, said Bjørndal. The message was that there is no one size fits all – with variations across vessel types, offtake scenarios, liquefaction technology, drafts and shipping distances.
Among the questions, he was asked about safety and the potential for leakage of CO2 from a storage tank in port.
"It is not explosive," he said. "But you can suffocate if you are close to CO2. So it needs a safety zone and must not be near a public place. Staff have to know the procedures if there is an alarm, and you must have proper equipment."
Bjørndal described the goal of Heidelberg Materials Cement Sweden to provide carbon neutral cement by 2030 – to do this, Heidelberg plans to install a carbon capture facility at its cement plant in Slite.
During the same session, Miguel Matias, CEO of Keme Energy, discussed how renewable energy communities at ports can influence cities' sustainability.
For ports, it is not just about becoming electrified, but also about the electricity becoming renewable, he said. "It is two challenges at the same time. We have to start both at the same time and we are late to this challenge. We have to get to 90% of electricity being form renewable sources by 2050 – and we are less than 50% now."
Ports are becoming really important in the drive for decarbonisation, he said. "Ports are an easy target – or an easier target – because it depends just on yourselves, not on other infrastructure that doesn't exist yet."