The inaugural GreenPort Congress Oceania will be hosted by the Port of Newcastle, Australia from 15-17 February 2023.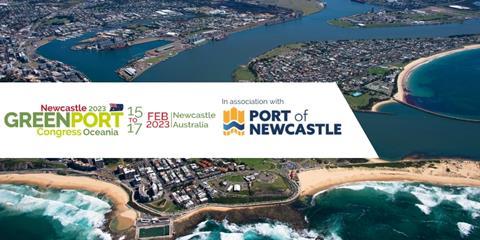 As the first host port of GreenPort Congress Oceania, Port of Newcastle is committed to driving the principles of sustainability throughout its operations, internal culture and the way it engages with customers and communities, diversifying its trade into areas such as hydrogen. It is the first port in Australia and New Zealand to become a member of the International EcoPorts network and have been working across the Pacific region to advocate for the benefits of the EcoPorts initiative.
Port of Newcastle is Australia's deepwater global gateway, the largest on the nation's East Coast and is more than a port. It exists to build Australia's prosperity with responsible, integrated and innovative supply chain solutions. With trade worth about $37-billion to the national economy each year, Port of Newcastle enables Australian businesses to successfully compete in international markets. The Port currently handles over 4,650 ship movements and 166-million tonnes of cargo annually, including dry bulk, bulk liquids, ro-ro, general and project cargoes and containers. With a deepwater shipping channel operating at 50% of its capacity, significant port land available and enviable access to national rail and road infrastructure, Port of Newcastle is positioned to further underpin the future prosperity of the Hunter, NSW and Australia. As custodians of the region's critical asset, Port of Newcastle is diversifying its trade as it strives to create a safe, sustainable and environmentally and socially responsible future.
The conference provides environmental managers from the port community - port authorities, terminal operators, shipping lines, logistics operators - with a meeting place to both learn about and discuss the latest in sustainable development and environmental practice in the Oceanic region and beyond. This enables them to effectively implement the changes needed to reduce their carbon footprint and to be more sensitive to environmental considerations.
If you would like more information about the GreenPort Oceania conference, don't hesitate to contact the Events team on +44 1329 825335 or email congress@greenport.com.