Promote your brand profile to shipping lines, ports, terminal operators, and logistics professionals at GreenPort Congress Oceania.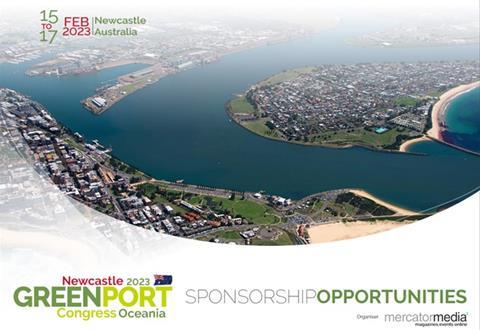 The inaugural GreenPort Congress Oceania can deliver opportunities for you to present your brand to major stakeholders and influencers with sponsorship packages tailored to your business strategy, and inclusive of delegate places to attend the conference.
The two-day conference provides decision makers from the port community - port authorities, terminal operators, shipping lines, logistics companies - with a meeting place to both learn about and discuss the latest in sustainable development and environmental practice in the Oceanic region and beyond to enable them to effectively implement the changes needed to reduce their carbon footprint and to be more sensitive to environmental considerations.
GreenPort Congress Oceania will be hosted by the Port of Newcastle and will be held on 15-17 February 2023.
If your business is seeking a platform to market itself through an array of sponsorship packages to suit any budget, this is the forum for you. Promote your company to the right audience at the right time.
Details of the Sponsorship Opportunities available to your business can be found on the GreenPort Congress Oceania website or by downloading the sponsorship brochure here.
Options include:
Silver Sponsorship – An opportunity to promote your brand with a high profile sponsorship package including MPU on the Congress website, 2 full page advertisements in GreenPort Magazine and sponsorship of an eNews, 3 complimentary delegate passes as well as complimentary exhibition stand area and promotion literature seat drop on day 1 or 2 of Congress.
Networking Coffee Breaks - An opportunity to display your brand or logo prominently during four coffee breaks across 2 days. GreenPort Congress Oceania corporate branding & awareness package including sponsorship of eNews, MPU on the conference website together with your logo on table pennants and tablecloths.
Visitor Badges - Exclusive branding worn each day by all attendees and speakers during Congress. Premium visibility of your company logo. Includes 1 full page advertisement in GreenPort Magazine as well as 1 complementary delegate pass.
Prefer to tailor a package to suit your brand strategy? Our team are on hand to discuss this with you. Contact the team on +44 1329 825335 or email congress@greenport.com.