THINKING BIG - CHALLENGES ARE GROWING, BUT SO ARE THE SOLUTIONS.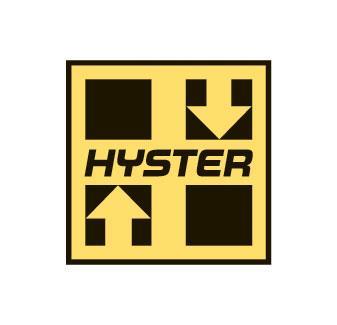 Content from our commercial partners
Find out more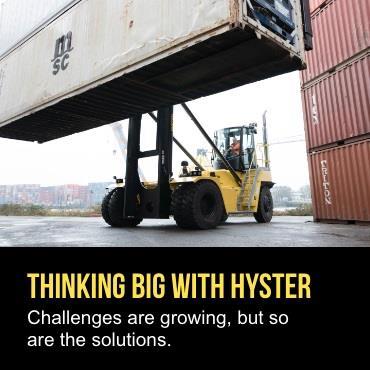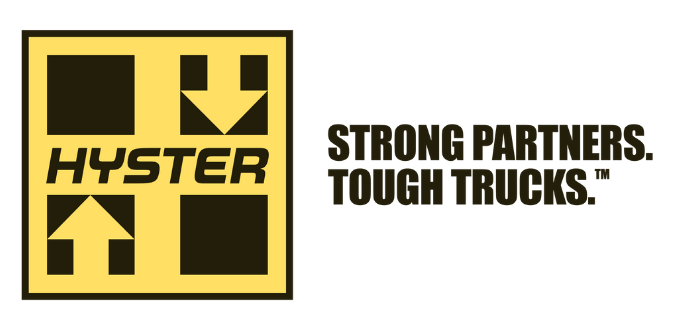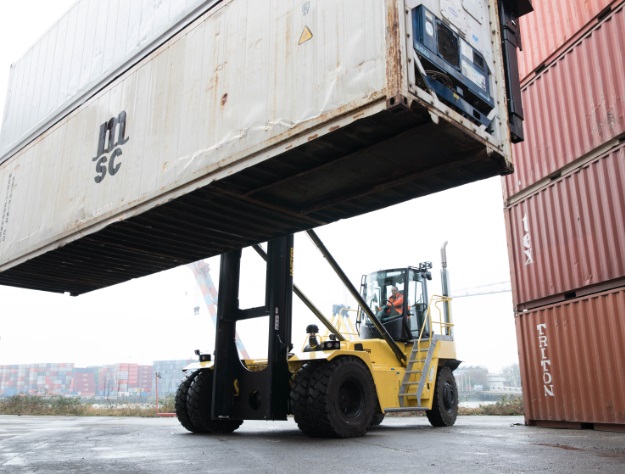 THINKING BIG
Challenges are growing, but so are the solutions.
Sponsored by: Hyster
Nobody understands the pressure of high supply-chain demands and the strain of harsh environments more than the port and terminal industry. The sheer size and scope of daily tasks are enough to push some operations to their limits. Add to that the pressure to meet tightening environmental regulations, and the situation can seem impossible. Having equipment that is designed and built to tackle these tall orders can make a huge difference.
BIGGER TRUCKS
Hyster® Big Trucks offer lifting capacities from 19,000–115,000 pounds and are built specifically for heavy loads and tough conditions. Typically, an operation might associate that level of capability with higher fuel consumption and emissions, but that's not the case at all. The engines on these trucks exceed EPA Tier 4 emission requirements and can save up to 15% in fuel.
Operations can expect big performance and productivity from these big trucks. A popular solution for increasing productivity in port and terminal options is the Hyster® H180-230XD-ECD double empty container handler.
Double container handling can help improve throughput and reduce congestion at ports – both inside the terminal and on roads. This helps reduce wait times for over-the-road freight trucks and optimizes traffic flows in and out of terminals.
In fact, double empty container handling can increase throughput by up to 30%, reducing cost per container moved and boosting profitability.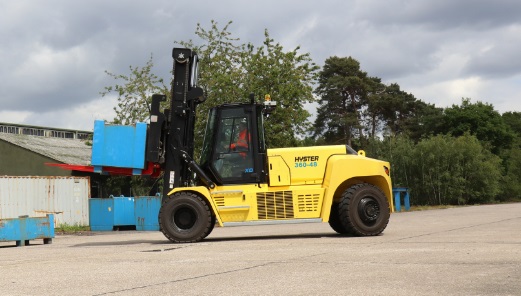 BIGGER POWER
What if an operation is ready to make the shift to electric for even more dramatic results?
When someone considers the latest advancements from companies like Hyster, it's worth taking a closer look.
Electricity delivers significant lifecycle savings – Electricity is more energy-efficient than gasoline, diesel fuel and most sources of propane and it eliminates the need for on-site fuel storage. Also, electric trucks require much less in repairs and maintenance when compared to internal combustion engine-powered trucks.
Reduced emissions – Electric lift trucks produce zero particle- and greenhouse-gas emissions.
Enhance safety and health – Operators (and the surrounding area) will benefit from the silent, emission-free and vibration-free operation.
However, the bigger the truck, the bigger the challenge it is to power it with electricity. Hyster offers 350-volt lithium-ion solutions to deliver the immense power, performance and uptime that operations need from big trucks.
Others are trying to apply the same 120-volt lead acid technology and capacity used in smaller trucks to big trucks, and it's falling short – big time.
350-Volt Lithium-Ion Battery Vs 120-Volt Lead Acid Battery
-Higher initial cost -Lower capacity
-No maintenance -Battery watering
-High performance -Battery degradation
BIGGER CABINS
Strength and power are essential, but there's more to consider when it comes to maximizing productivity. Visibility and comfort are also vital, and the Hyster® XD Cab is packed with ergonomic features that help operators perform at their highest level shift after shift. Take a virtual test drive here.
This is big news for the port and terminal industry, and it couldn't come at a better time. To learn more, visit below: