COASTLINK 2022 WILL BE HOSTED BY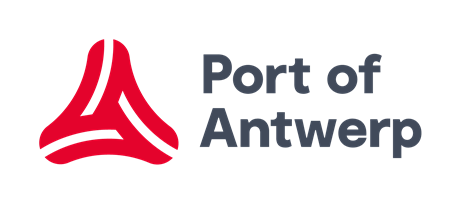 Venue
The Coastlink 2022 Conference will be hosted by the Port of Antwerp, in Belgium.
The conference will be held in the Event Hall at The Port House – an award winning and dynamic venue, reflecting the innovative nature and sustainable values set out by the port.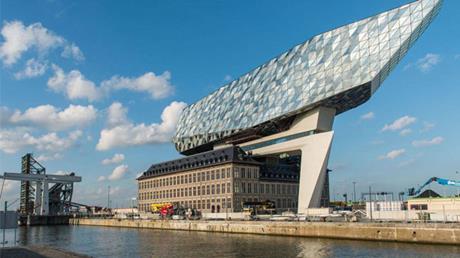 Venue Address
The Event Hall at The Port House
Port of Antwerp
Zaha Hadidplein 1, 2030 Antwerpen, Belgium
https://www.portofantwerp.com/en/accessibility-port-house
How to Get There
The Port House can be easily reached from Antwerp Central Station via a 15 minute tram ride that runs every 10 minutes on route 24 (Silsburg-Havenhuis). The end of the line stops outside the Port House.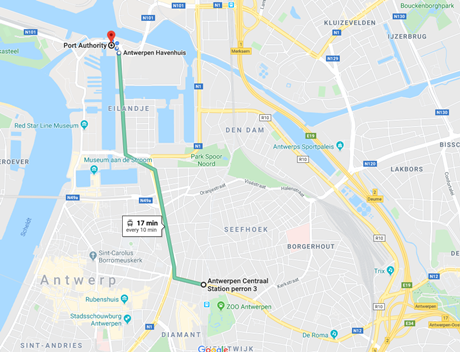 For information on how to get to the Port House, visit the Port of Antwerp website. Click Here for more information.
Parking
The Port House has two private car parks where visitors can park:
Underground parking at the Port House: the entrance is on the Mexicostraat. A digital sign at the entrance shows how many parking spaces are still available. There are charging points for electric cars.
Parking 'Straatsburg': you can park here if the underground parking is full. This parking is next to the parking at the restaurant 'Het pomphuis', diagonally opposite the Port House. The entrance and exit of the car park is on the Merantistraat. From here it is a two minute walk to the Port House.
Accommodation
Coastlink 2022 have reserved a limited number of rooms at the nearby Holiday Inn Express Antwerp City - North. The hotel is only a 20 minute walk from the conference venue, the Port House, and is in a great location set near the Harbour of Antwerp with plenty of restaurants nearby.
We would advise those wishing to attend the conference to book soon as there are limited spaces and they will only be reserved for a selected period of time.
The standard rooms are reserved for the period 10/05/2022 - 12/05/2022 at a rate of €126 per room/per night including breakfast, WIFI and tea/coffee facilities.
Please use the link below if you would like to reserve a room for the Coastlink Conference 2022:
Once you have clicked the link above, please select the dates you wish to stay and room type. You will then be prompted to complete the booking process where it highlights 'Coastlink Conference'.
Please note you can only use this link to book rooms between the period 10/05/2022 - 12/05/2022, if you have any issues booking a room or would like to book additional nights please contact the events team on +44 1329 825335 or email info@coastlink.co.uk.
Please find directions below from the Holiday Inn Express Antwerp City - North to the Port House via a 20 minute walk: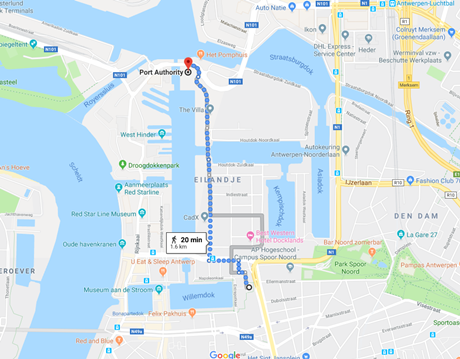 Alternatively the venue can be reached from the Holiday Inn in a short tram ride taking route 24 from Antwerpen Noorderplaats (across the road from the hotel) to the final stop Antwerpen Havenhuis.