The host of this year's GreenPort Cruise conference, the Venice Port Authority, is no stranger to environmental issues and Venice Passenger terminal is in many ways spearheading green initiatives for the whole industry.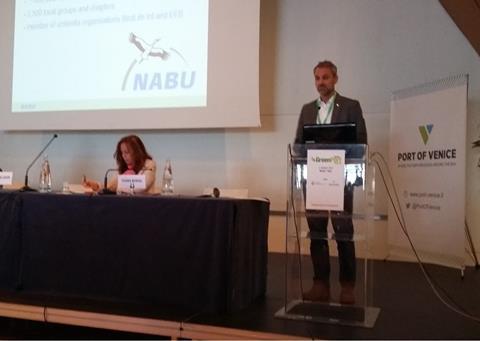 As Annamaria Morganti, Venice Passenger Terminal, welcomed delegates to the conference, she explained that Venice is spearheading an electric vehicle programme enabling the port to save 70% more energy and reduce emissions.
The cruise industry as a whole is flying the green flag - as Kyriakos Anastassiadis, Celestyal Cruises, and executive committee member, CLIA, said in his keynote address:
"Our businesses depend on us being responsible environmental stewards in order to achieve success. Cruise ships are designed for optimum efficiency to ensure that ships are as environmentally friendly as possible."
Dealing with larger ships
The first section of the conference focused on port infrastructure and in particular, dealing with increasingly large ships.
Dietmar Oeliger, NABU, looked at whether northern European ports are ahead of the south in terms of green infrastructure and policies.
The short answer is yes.
He said: "The cruise industry is not doing as much as it can to preserve the environment and people's health. Why do we allow cruise ships to pollute more in southern Europe (up to 3.5% sulphur) than in the North? (0.1% sulphur)"
NABU is working on closing this gap with a Clean Cruise Ship Network in the Med, it wants to achieve a SECA in the region and create cleaner ports.
Questions from the floor included the issue of scrubbers - why was this not mentioned in NABU's talk as a viable option for cruise ships? Mr Oeliger said that because they only shift the problem from the air to the water. He added that the issue to address instead is the use of heavy fuel by the industry.
Cruise projects
Session two on port projects, renewable energy and transport systems kicked off with 'Green Cruise Project: Sustainable energy, Innovative terminal facilities and cruise terminal traffic links' by Manfred Lebmeier, Hamburg Port Authority.
A question from the floor asked why is it that investment in environmental progress saves money? What is the economic rationale? Mr Lebmeier said that put simply, if the neighbours don't except the cruise port then business will be impacted so it has no choice but to clean up its act.
Reducing emissions
After lunch, session three focused on reducing emissions.
Thomas Kopel from Siemens addressed the LNG/shore side power debate in cruise and told delegates that both are green solutions that can complement each other. OPS should be used at berth and LNG should be used at sea.
Siemens has installed a worldwide first 50/60 Hz OPS system for cruise liners at the Port of Hamburg.
But there is still a challenge with LNG supply - at the moment the LNG comes from Rotterdam or Zeebrugge, but Hamburg is working on its own storage facility.
Meanwhile,Tom Strang, Carnival Corporation, talked about the group's decision to opt for LNG as a solution to ECA compliance.
He said: "Carnival opted for LNG for our newbuild ships, we needed to future proof our vessels and when we considered our options we believed that LNG ticked the most boxes going forward."
And he had some good advice for delegates. Namely why reinvent the wheel? There are bunkering guidelines and competency standards already out there so why not use them to work towards standardisation.
Into the future
The day ended with a futuristic concept for the future of greener cruising.
Andrés Molina of Peace Boat Ecoship, introduced delegates to the Ecoship which performs ecologically responsible cruises to convey the importance of environmental conservation.
It also serves as a platform for green technology - a test ship for the wider shipping industry.
A final thought came through a question from the floor on the Peace Boat - Is the vessel not a threat to OPS and LNG bunkering which could be made redundant if other operators follow the concept?
Thomas Kepel said no, there is a place for all of these green technologies. Peace Boat is very much at concept stage, LNG and OPS are technologies which can be taken advantage of now.
Tom Strang added that some technologies such as LED lighting are already being used on cruise ships, they're just not normally demonstrated all in one place like on Peace Boat..
So perhaps there is a take home message there, a total green overhaul can be expensive, but smaller less expensive changes can and should be made by ports and operators.
Being green is part of the cruise industry's corporate responsibility and its ability to retain business, that's what comes with the territory of working with a cargo that can 'talk back'.
Participants went on to enjoy the GreenPort Congress Welcome Reception at the fabulous Hotel Bauer and GreenPort Congress from 12-14 October 2016 in Venice, Italy.