Planning to attend Coastlink 2020? Take advantage of the 15% Early Bird discount on the delegate rate, by booking your place before 31 January 2020. Visit our website to book your place on-line and enter the code 'early' to redeem your discount.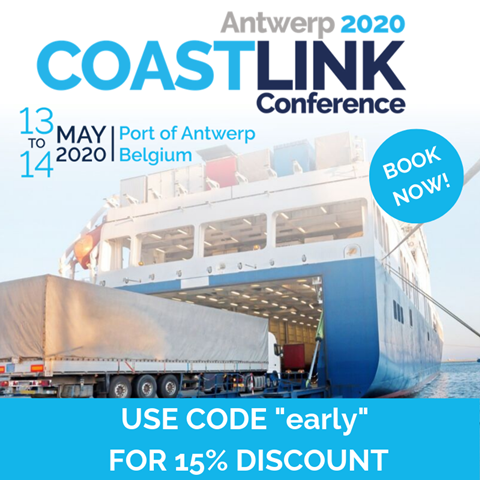 Coastlink is being hosted in the Port of Antwerp - Europe's second largest seaport – for the 2020 event. This year the Conference dates are Wednesday 13th and Thursday 14th May with the event theme for 2020: Building Connectivity between Shortsea Shipping & Intermodal Networks..
Coastlink will deliver 1.5 days of Conference Sessions which will include informative presentations and engaging panel discussions designed to encourage open discussion and audience participation. Session topics include:
Market Sector Overview: Industry Challenges and New Opportunities for Shortsea Shipping.
Building Connectivity & Networks for the future – linking Shortsea Shipping to Intermodal Transport Routes.
Looking to the future – Improving efficiencies through Digitalisation & Innovation.
Coastlink promotes the opportunity for delegates to secure new relationships and build on existing relationships through the networking events that are hosted throughout the 2-day Conference. All networking events are included in the delegate package including the Conference dinner which will take place on the evening of 13th May. Benefit from the prospect of meeting with key professionals from Royal Haskoning DHV Ocean Shipping Consultants, Unifeeder, PD Ports, and the Port of Tyne. Industry stakeholders from Coastlink's Supporting organisations such as the Freight Transport Association and the UK Chamber of Shipping will also be in attendance.
For 2020, the Port of Antwerp will host the Technical Visit, taking place in the afternoon of Day 2. This will incorporate a visit to the Shortsea Shipping Terminal at the Port giving delegates the opportunity to see how shortsea optimally connects to inland shipping and subsequent intermodal networks. Barge and rail intermodal solutions at the Short Sea Shipping terminal offer improved connectivity with the hinterland, and, facilitate efficient logistics solutions through the port community.
The Coastlink full delegate package includes:
Conference attendance on both days
Place at the Conference Dinner on the evening of Day 1 – 13th May
Place on the Technical Visit at the Port of Antwerp, on the afternoon of day 2 – 14th May
Conference Handbook & full documentation in electronic format
Lunch and refreshments on both days
Networking Opportunities throughout the event
Book before 31 January to benefit from the 15% Early Bird Discount. Visit our Website and enter code early at the checkout. Alternatively, please call the team on +44 1329 825335 or email info@coastlink.co.uk.