Looking to get your company profile in front of leading EU & UK ports, short sea shipping lines, and logistics operators cross the supply chain?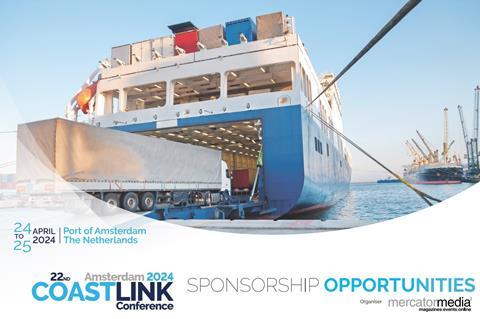 5 reasons why sponsorship at Coastlink 2024 is right for you.
Audience - Coastlink is a neutral pan-European network and will be hosted by the Port of Amsterdam in 2024. Meet with leading EU and UK ports and port operators moving hundreds of millions of tonnes of cargo annually. Attendees from across Europe and the UK include: ports and terminal operators, short sea & feeder shipping lines, cargo handlers and multi-modal operators, port authorities and shippers - plus freight forwarders, logistics operators, port consultants, and industry associations.
Online Presence & Media Coverage - Benefit from the international reach of the Coastlink database. Partnering with magazine brands – Port Strategy, Greenport, The Motor Ship and Maritime Journal – your logo and branding will be visible on all marketing collateral across our international audiences in the lead up to, during, and post the event.
Port Strategy Industry Database – New for 2024! Extend your reach to an audience of 19,500+ clients. The Port Strategy directory is consulted by purchasers including 5,800 senior port executives every month. Linked editorial and other related content make this directory an essential source of information for anyone working within the commercial ports sector.
Networking Opportunities - Present your brand to major stakeholders and influencers at this year's event with sponsorship packages tailored to your business strategy. Packages can include delegate places to attend the 2-day conference to maximise on the networking opportunities on offer.
Collaborate with Industry Experts - Coastlink is the short sea shipping and sustainable logistics network. Build relationships and collaborate with key professionals on topics such as sustainability and the energy transition, opportunities for the short sea sector, and advancing resilience in the logistics supply chain through digitalisation and automation.
Coastlink provides the platform for sponsors to engage and work with industry experts to help drive growth for a sustainable future.
The Coastlink Conference will be held on 24 & 25 April 2024 in the prestigious maritime City of Amsterdam. Full details of the sponsorship opportunities available to your business can be found on the Coastlink website.
Prefer to tailor a package to suit your brand strategy? To discuss the options and find out how we can support you, simply contact Arrate Landera at alandera@mercatormedia.com or call on +44 1329 825335