Join over 21 ports and over 40 senior decision makers and environmental managers at GreenPort Congress & Cruise 2023 next week in Lisbon.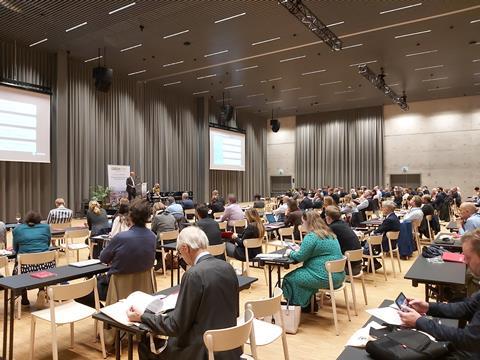 Book and secure your place at this year's conference, featuring two days of conference presentations and panel discussions, a welcome reception, conference dinner and port tour.
The 2023 conference focusing on 'balancing environment challenges with economic demand' will cover a range of topics including:
Cruise Infrastructure Development – featuring Heraklion Port Authority on the Opportunities, Risks & Threats regarding "Cold Ironing" in Ports
Carbon Neutral Port – with Ramboll discussing Carbon Capture in the green transition
Shore Power – including PowerCon's Head of Sales and the strategic challenges of OPS
Infrastructure Development for Ports – featuring TMEIC talking Energy Recovery & Storage for Ports –Where Energy Supply Meets Demand
Port Endeavour – Interactive session to increase awareness among those working in port communities on how ports are already applying the UN Sustainable Development Goals to their business,
ESG - Environmental, Social and Corporate Governance Workshop - The workshop will investigate: What are the benefits and value of ESG approach.
Offshore Renewables & Alternative Energies – with WavEC Offshore Renewables
Waste Management and Circular Economy – featuring the Managing Director of ECO-OIL
Blue Growth – including Fórum Oceano - Portugal Blue Economy Cluster
Digitalization and Technology – featuring LSYM Port Simulators developed by the University of Valencia
This year the opening keynote panel will discusses options available to combat these risks hearing from ports, shippers, and companies across the maritime industry. Confirmed panellists include Isabelle Ryckbost, Secretary General , ESPO; Nicolette van der Jagt, Director General, CLECAT; Isabel Moura Ramos, Executive Board Member, Port of Lisbon Authority; Ms. Lamia Kerdjoudj, Secretary General, FEPORT and Maja Markovčić Kostelac, Executive Director, European Maritime Safety Agency.
The welcome reception for GreenPort Congress & Cruise 2023, a great networking icebreaker, will be held at the Lisbon City Hall.
This year the dinner will be held at Palace of Conde d'Óbidos, a strikingly historic space with a breathtaking view over the Tagus River. In the aristocratic center of Lisbon, leaning on the Tejo, is located the Palace of the Rock of the Conde D'Óbidos, National Headquarters of the Portuguese Red Cross.
The conference welcome reception and dinner is included in the delegate pass and provides an opportunity to reflect on the first day of conference presentations and continue the discussion outside of the conference room.
View the programme here! Book Online
With under one week to go don't miss out on the opportunity to learn from leading industry speakers as well as build important connections at GreenPort Congress & Cruise. Book online or call the conference team on +44 1329 825335. For more information email congress@greenport.com.