Air quality remains the top priority of European ports with energy consumption and noise closely behind, ESPO's Environmental Report for 2018 shows.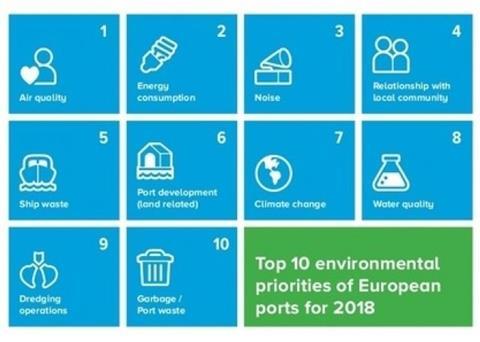 Presenting the report at the GreenPort Congress in Valencia, ESPO revealed that increased interest in the relationship with local community in position four of the report's list of the top 10 environmental priorities of European ports for 2018 is relevant as air quality has been increasingly a concern for citizens of port cities and urban areas.
"The report will be a good source of information for all interested stakeholders, local communities, civil society, researchers and industry," said ESPO's secretary general, Isabelle Ryckbost.
Climate change important
Climate change reached position 7 in 2018 after making it into the Top 10 for the first time in 2017, revealed the report. Almost eight out of ten European ports take into consideration climate change when they develop new infrastructure projects.
At number 10, port waste emerged as the most monitored issue, increasing 17% since 2013. This indicates the readiness of ports to contribute to addressing the issue of marine litter, said ESPO.
73% of the ports are certified under an environmental standard (ISO, EMAS, PERS), found ESPO, which includes environmental performance benchmark indicators in its report.
The report found that 24% of the ports provides high voltage shore-side electricity for ships at berth and 30% of them with LNG refueling points, while another 24% is currently developing LNG infrastructure projects.
ESPO noted that barriers to uptake in alternative fuels are hindering investment in alternative fuels infrastructure, such as energy taxation on electricity in the case of shore-side electricity for ships.
Story via Port Strategy