Join participants from deep-sea and short sea shipping companies and agents, intermodal operators, shipbrokers, ports and stevedores as well as forwarding and logistics companies, at this years' Coastlink conference. Listen to presentations from a debate filled programme including the following topics -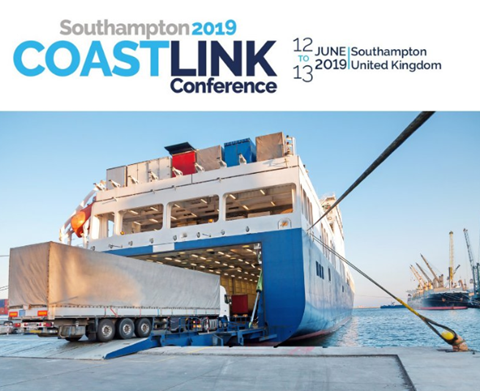 The changing European logistics landscape – Adapting to the changing economic demands for transportation
How to manage your transport procurement and service – The best cost and delivery solution with environmental consideration
One belt, one road – the real partnership with Europe? – How Chinese developments and investments are influencing European short sea shipping
The conference will be held in the Grand Harbour Hotel in Southampton, located close to the Port on the south coast. It has been chosen as a venue due to its proximity to international shipping lanes and less than 100 miles from mainland Europe. 820,000 vehicles pass through the port each year via its RORO operations serviced by its 80ha of dedicated vehicle storage and distribution compounds. It is rail-connected to receive regular specialist trains featuring adjacent deep-water berthing. Home to the UK's second largest container terminal, Southampton handles more than 1.5 million teus each year. There is a network of feeder services from Southampton Container Terminal to destinations around the UK and to the Republic of Ireland.
Coastlink was established in 2004 by David Cheslin and Gavin Roser, both experienced shipping professionals with a passion for short sea and feeder container shipping and logistics. The founding conference was held in London early in 2004. Coastlink has exceptional pedigree being previously produced or held in Zeebrugge, Dublin, Bilbao, Liverpool, Hamburg, Port Rouen, Paris, Antwerp, London, Poole, Dunkirk, Cardiff, Tallinn, Birmingham, Gothenburg, Gdansk, Nantes, Perth, Hull, Bristol, Newcastle and Felixstowe.
The delegate package includes welcome drinks, 1.5 days of conference sessions, conference dinner, full documentation plus a technical visit concluding the conference on the afternoon of day 2.
Places at the Conference and technical visit are limited so delegates are advised to book early to guarantee their place. The early bird rate is currently available – book now to save over £150!
Programme updates will be available via the Coastlink website.
Visit our website and enter code early at the checkout or call the team on +44 1329 825335, info@coastlink.co.uk.
Follow the event on Twitter @Coastlinkconf