Don't miss the 2023 expert speakers, the collaboration and debate, and the extensive networking opportunities with industry decision makers at this year's event.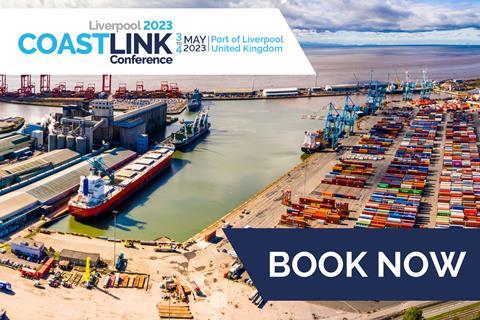 Coastlink 2023, hosted by Peel Ports and the Port of Liverpool, will feature 2-days of informative discussion and debate on 'Growing sustainable supply chains'. Connect with and learn from EU & UK key industry stakeholders from the ports, shipping, and logistics sectors.
What's On?
Peel Ports Group CEO – Claudio Veritiero, will welcome attendees and delegates to the event which starts on the 3rd May. Delegates will hear from Keynote speakers – WEC Lines and Maersk – as they highlight market trends and emerging opportunities in the short sea market, and the latest developments in the sustainable movement of freight.
For further details of the full-packed Conference Programme, the panel sessions, and who will be speaking click here
What's Included?
Delegates will enjoy 2-days of presentations and engaging debate and will have the opportunity to network with port professionals, shipping lines and shippers, freight forwarders, terminal operators, port consultants, and logistics specialists. Delegates can also participate in a workshop in the afternoon of Day 2 and a Technical Visit at the Port of Liverpool, courtesy of Peel Ports.
The Coastlink 2023 delegate package includes:
Conference attendance on both days
Lunch and refreshments on both days
Conference Handbook in electronic format
Place on the technical visit at the Port of Liverpool – 4th May
Place at the conference dinner – 3rd May (Premium Package Only)
Post-event Presentation Download (Premium Package Only)
Coastlink takes place at the prestigious Royal Liver Building on the world-famous Liverpool waterfront on 3 & 4 May 2023.
Don't miss this year's must attend event. Book your place online via the Coastlink website or contact Joanna Miller on +44 01329 825335.