Join the Coastlink community in Amsterdam and benefit from the early bird discount on your delegate place.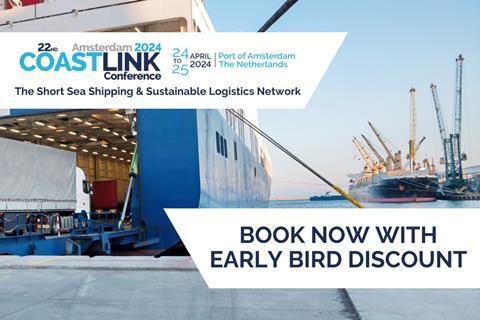 Coastlink 2024, hosted by the Port of Amsterdam, is taking place on 24 & 25 April. Book now to secure your place at next year's conference and take advantage of the 15% early bird discount.
Delegates will enjoy 2-days of conference including informative presentation sessions and interactive panel discussions. The conference will include numerous opportunities to network with key professionals across the ports, short sea shipping, and logistics sectors including a gala dinner and the chance to see the Port of Amsterdam by boat!
What's included in the delegate package?
2 days of conference sessions including lunch & refreshments
Place on the boat Port Tour at the Port of Amsterdam
Electronic documentation – Conference Handbook and Programme
Place at the Conference Gala Dinner (Premium package only)
Post event download (Premium package only)
What topics will be covered on the programme?
Coastlink is the short sea shipping and sustainable logistics network. In 2024 attendees will learn from our expert speakers as they provide their insight on the following topics:
Emerging Opportunities for Short Sea Shipping – How is the market adapting to economic & market pressures to sustain future growth
Green corridors – collaboration to drive sustainable growth
Advancing supply chain resilience & embracing the benefits of modal shift
Smart operations - What's next in Digitalisation, Automation, and Innovation to drive efficiency?
Ports as Enablers – Facilitating the Energy Transition for Shipping & the Supply Chain
Shore Power – Overcoming the barriers to infrastructure and delivery
Join the Coastlink community and the chance to attend the event in the truly unique maritime City of Amsterdam. Book your place today!
Contact the Coastlink team on +44 1329 825335 or by email at info@coastlink.co.uk for further details.