The Port of Antwerp are excited to be chosen as the host port for the Coastlink 2020 Conference being held on 13 & 14 May 2020. The event will be held in the Auditorium at the prestigious Port House – an award-winning and dynamic venue, reflecting the innovative nature and sustainable values set out by the port.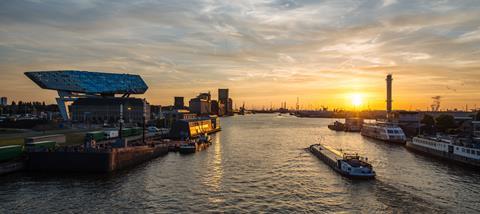 Coastlink caught up with Justin Atkin, Port Representative - UK & Ireland, at the Port of Antwerp to understand the port's preparation for Brexit and how this is enabling their strategic development and growth of the short sea shipping sector.
We asked Justin to comment on: What are the likely implications of a 'hard' Brexit on cargo flows?
"Whilst the uncertainty over Brexit continues, we are certain that as soon as the UK leaves the EU, in whichever form, there will be radical changes in the transportation of goods between the two regions. People, goods and documents entering or leaving the EU will face increased inspections and checks after Brexit with an estimated 930,000 import declarations and 4.5million export declarations expected. The consequences especially for accompanied transport through ferry ports are likely to include delays, congestion and longer transit times, which will put a strain on already stretched resources and ultimately result in higher costs. With an estimated shortage of over 50,000 truck drivers in the UK, the transport sector can ill afford these additional delays."
Won't this also be the situation at the Port of Antwerp?
"No, not at all. Because of its inland position, Port of Antwerp is not a ferry port and therefore almost no accompanied transport is leaving or arriving at the Port from the UK & Ireland. Furthermore, because of the port's connectivity to more than 1000 ports across the globe, the Antwerp logistics providers already have significant experience of non-European shipping transport and therefore have the expertise to deliver smooth customs procedures and rapid transit times for cargo."
How has the Port of Antwerp prepared for a 'hard' Brexit:
"Shortly after the UK Brexit referendum in 2016, the Port of Antwerp formed a 'Taskforce' of 'Brexperts' who, along with different stakeholders including Belgian Customs, the Belgian Food Safety Agency, and major port community and business representatives, to identify the potential consequences of Brexit and to agree mitigating steps to ensure as frictionless transition as possible. Over the last 3 years Antwerp's Taskforce has lobbied at all levels of local, regional, national and international government; undertaken extensive sensitising of Belgian, UK and Irish shippers, including holding 'roadshow' events in London, Birmingham, Dublin and Cork.
The customs authorities have also been making preparations, recruiting an additional 386 full-time employees in order to deal with the increase in customs workload."
Coastlink enquired what advantages the Port of Antwerp has over other European ports?
"Antwerp's location - 85km inland on the River Scheldt strategically positions the port close to the main European centres of production and consumption which, added to its excellent hinterland connectivity by inland waterway, rail and road, means that shippers have multiple multi-modal options for easily moving their cargo through the Port. In fact, more than 45% of cargo handled through the port is carried by barge (38%) or rail (7%). With more than 6million m2 of warehousing, much of it bonded, the Port of Antwerp is able to accommodate increasing warehousing needs as part of short, or, longer term Brexit solutions. With a skilled and productive workforce, Antwerp is a flexible and highly efficient port offering rapid transit times for cargo."
Coastlink is a neutral pan-European network dedicated to the promotion of short sea and feeder shipping. To conclude the interview, Coastlink asked Justin why the Port of Antwerp promote short sea shipping as a solution?
"Short-sea shipping solutions between the Antwerp, and, UK and Ireland, provide shippers with an alternative to existing traditional supply chain routes through ferry ports. By shipping closer to the point of origin or final delivery, shippers can avoid potential congestion therefore improving reliability. They can also reduce dependency of road trucks for 'first' and 'last' mile transportation as well as reducing costs and CO2 emissions.
With more than 18 million tonnes passing annually between Antwerp, and the UK & Ireland, including chemicals, oil products, foodstuffs and breakbulk, there is already great emphasis placed on the nine existing services that operate between the two regions. The Port of Antwerp is however, making great efforts to increase its shipping links to meet the growing needs of shippers who are re-engineering their supply chains, moving from accompanied to unaccompanied transport."
For more information on the Port of Antwerp's Brexit position Click Here
Attend Coastlink 2020 to find out how short sea and feeder shipping can benefit supply chains and improve efficiency in the movement of freight. Join industry experts and professionals to debate the key factors affecting the sector and how solutions are being developed in this evolving market.
Coastlink will offer delegates networking opportunities throughout the conference. Don't miss the opportunity to meet with key stakeholders from the Port of Antwerp, Unifeeder, and Fast Lines Belgium and build relationships for the future.
Our 15% Early Bird Discount is now available on the delegate package. To book your place & enjoy the benefit of this discount, visit our Website and enter code early at the checkout to redeem the discount. Alternatively, please call the team on +44 1329 825335 or email info@coastlink.co.uk.