Nils Minor, General Manager Sales West & Central Europe for Unifeeder highlighted some of the challenges facing the market in his keynote address.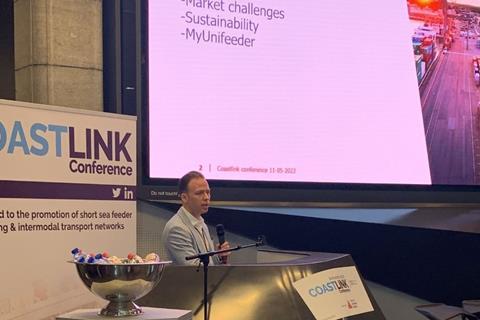 Discussing the challenges with capacity constraints, port congestion, and an increase in costs Nils commented that they have seen a transition from seasonal cargo levels to "a continuous high demand of cargo", with the further challenge of managing increased tonnage rates and bunkering costs.
Nils went on to discuss the opportunities Unifeeder are developing in sustainable shipping and logistics. Acknowledging their environmental responsibility to reduce carbon emissions in shipping, Nils outlined the work they are doing on their green agenda. Whilst sourcing alternative fuel types, and vessels, play a substantive role, Unifeeder are investing in technology to track emissions throughout the entire supply chain. Measuring the emissions per ton and providing transparency on data to clients and suppliers enables businesses to improve efficiency targets.
Catrien Scheers, Chairman of Fast Group Belgium discussed challenges facing the industry and highlighted that "90% of everything comes to us by ship" so if shipping is impacted – so is the supply chain. Catrien emphasised the need to keep "pre-thinking" logistics, and to ask the 'what if' scenarios to plan ahead, adapt, and turn challenging market pressures into opportunities for the future.
John Lucy, Director of Liverpool Freeport, discussed the emerging trends for the market with a renaissance of regional ports for RoRo traffic in the UK; new ferry routes for unaccompanied freight, such as the Port of Immingham to the Netherlands; and Freeports becoming "test beds for Net Zero".
An informative morning session with clear challenges across the industry with common themes emerging – but there was considerable optimism with the growth in the sector and a strong desire to work more collaboratively to benefit all in the future.