The Coastlink 2020 provisional conference programme has been released featuring a cross section of high-profile industry stakeholders from the shipping, ports, maritime and logistics sectors, who will be presenting at the Conference.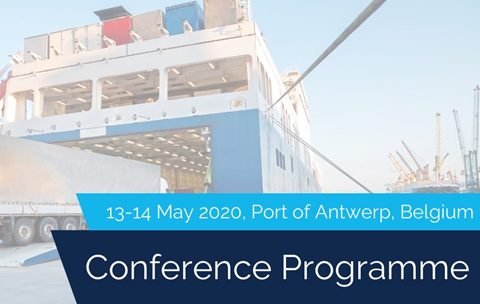 The focus for the 2020 event is "Building Connectivity between Short Sea Shipping & Intermodal Networks". Coastlink will deliver 1.5 days of Conference Sessions which will include informative presentations and panel discussions designed to knowledge share and encourage discussions and audience participation. Topics include:
Industry Challenges and New Opportunities for Short Sea Shipping.
Building Connectivity & Networks for the future – linking Short Sea Shipping to Intermodal Transport Routes.
Looking to the future – Improving efficiencies through Digitalisation & Innovation.
Luc Arnout, Vice President & Director International Networks at the Port of Antwerp, will set the scene on Day 1 by delivering the welcome address. The Port of Antwerp is Europe's second largest seaport - a forward thinking and innovative smart port who believe in the values of connectivity, trust, simplicity, and passion for a sustainable future.
The Port of Antwerp's vision of connectivity and sharing knowledge for the benefit of the sector and the port community, aligns with the Coastlink ethos of bringing people together to debate solutions and future opportunities for the short sea shipping, ports and intermodal logistics industries. Coastlink is a place for sector professionals to meet and discuss future innovation, economic and environmental considerations – and develop partnerships that will help build-on the sustainable future.
Next up is Hans Meeder, Country Manager for Unifeeder Netherlands, to deliver the keynote presentation in session 1. Hans will talk about how, despite new industry rules and regulations creating potential challenges, with smart thinking Unifeeder are developing new solutions for the market, creating new trade opportunities, and becoming market leaders in short sea and feeder shipping,
The conference programme includes engaging panel discussions in each session. Representatives from businesses including PD Ports, Port of Tyne, North Adriatic Sea Port Authority. the Freight Transport Association, Smart Maritime Network and L3 Harris will participate in these panel debates.
Learn from the experts by joining Coastlink 2020. Book now and you will save 15% on your delegate place – by entering the code early when you book on-line. Visit our website for more details. Alternatively, please call the team on +44 1329 825335 or email info@coastlink.co.uk.