Did you miss Coastlink 2022 hosted by the Port of Antwerp-Bruges? A download of the speaker presentations and conference handbook is now available.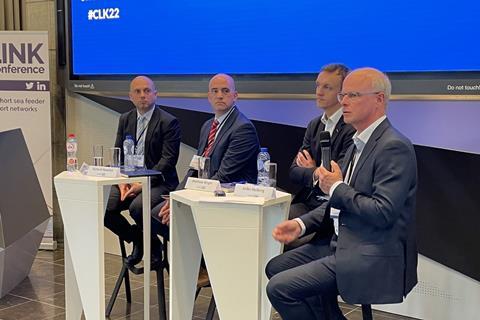 The theme of Coastlink 2022 centred on Building Connectivity between short sea shipping and intermodal transport networks. Attendees enjoyed informative presentations and extensive debate during the panel discussions held at the event. A download of these presentations and the conference handbook incorporating speaker profiles and content papers, is now available.
If you didn't attend the conference, you can still learn from industry-leading experts in attendance by downloading the papers and presentations. The proceedings are available to purchase by visiting the Coastlink website.
Session topics covered at the event included:
Market Sector Overview: Industry Challenges and New Opportunities for Short Sea & Feeder Shipping
Speakers included:
Michiel Vermeiren, Manager Maritime Business & Market Intelligence, Port of Antwer-Bruges
Nils Minor, General Manager Sales West & Central Europe Unifeeder
Catrien Scheers, Chairman, Fast Group Belgium
John Lucy, Director of Liverpool Freeport, Liverpool City Region Combined Authority
Matthew Wright, Policy Manager, UK Chamber of Shipping
Richard Newton, Commercial Director Logistics, Port of Tyne
Jolke Helbing, Director of Royal HaskoningDHV Ocean Shipping Consultants
Building Connectivity & Networks for the future – linking Short Sea & Feeder Shipping to Intermodal Transport Routes
Speakers included:
Patrick Verhoeven, Managing Director of International Association of Ports & Harbors
Dr Iven Kraemer, Head of Department - Port Economy, Infrastructure, Shipping, The Ministry for Science and Ports - Bremen
Stephen Carr, Group Commercial Director Peel Ports – Liverpool
Jan Cuyt, Business Development Advisor, Customer Relations – Shipping Lines KR/SHL, Port of Antwerp-Bruges
Gregory Brion, Director of Conti-Lines Group / Conti-Invest
Looking to the future – Improving efficiencies through Digitalisation & Innovation
Speakers included:
Ferhat Acuner, General Manager, NAVTEK Naval Technologies Inc
Lars Robert Pedersen, Deputy Secretary General, BIMCO
Eleni Bougioukou, Innovation Manager – Energy and Sustainability, Port of Tyne
Raoul Tan, Director Naviporta, Port of Rotterdam International
Richard Ballantyne., Chief Executive, British Ports Association
Norbert Kouwenhoven, Strategy & Innovation Advisor, Dutch Customs Administration
To view the full conference programme visit the Coastlink website here
Coastlink 2023 will be hosted by Peel Ports at the Port of Liverpool on 10 & 11 May 2023, for further information on the event please contact Sally Wattam at Mercator Media swattam@mercatormedia.com.