Day one of the re-launched Coastlink conference saw major names in the short sea shipping arena come together.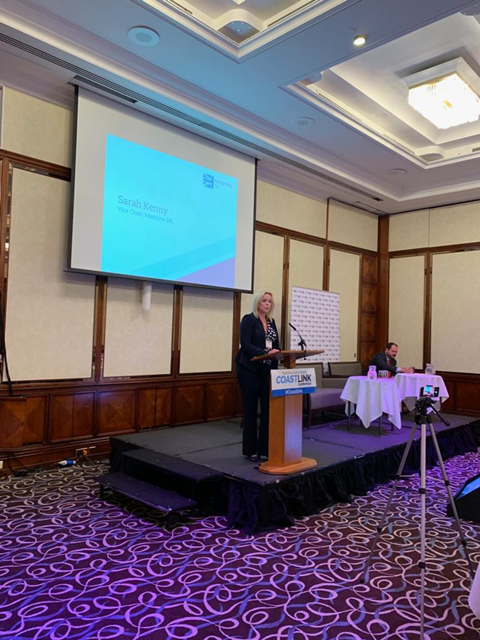 Day one of the re-launched Coastlink conference saw major names in the short sea shipping arena come together.
The first Keynote was delivered by Sarah Kenny, Vice Chair of Maritime UK who introduced us to the Government's Maritime 2050 report. She talked about the importance of maritime including the £40 billion it contributes to the UK economy. Highly trained and motived personnel need to be engaged to raise the profile of the industry to be ready for a range of trade futures. If we want to move forward, the industry needs to sustain, grow and regain.
Justin Atkin, the port representative UK & Ireland for the Port of Antwerp confirmed that the UK & Ireland is their 2nd largest trading partner. He delivered positive data and confirmed that there had been a 15% growth in the UK & Ireland in the last 1 – 1.5 years. He talked about the additional opportunities and how there is a need for transparency in the shipping process through digitalisation.
Operations were discussed as essential to ports and fulfilling customer needs. Colin Bassam, Manager of Port Training Services voiced "if you think training is an expense, try paying for an accident." Formal training will drive core behaviour, knowledge and skills and ensure jobs are filled with the right people.
Chantal McRoberts, Principal Consultant from Drewry explained that we are in mature trade growth. There is a move away from globalisation but we can expect to see more Europe to Europe trend. Their report on the impact of a no deal Brexit on the Port of Dover identified that geographically, we have a lot of capacity in ports that already have the facility to all people to move cargo around the UK. We need to become more active and re-engineer supply chains. Outside investment is improving infrastructure and lines are investing into connectivity. Discussing the changing economic demand for transportation in Europe, Chantal stated that ports will take a hit next year then growth is possible but the UK economy is the main driver.
The afternoon session opened with Andrew Ellis, Country Manager of Unifeeder UK. He explained that partnerships are not liked by procurement as everyone wants to control their own destiny and make their own money. Daily challenges to the industry include lack of truck drivers, transport costs, seasonal fluctuations, storage, damage of cargo, CSR & environment and Brexit. The supply chain is at risk with experts predicting a deficit of 150,000 drivers in 2020. He explained that we should take things back to basics and move by sea.
Andrew, who joined the panel "How to manage your transport procurement and service – the best cost and delivery solution with environmental consideration", said that we need to utilise the asset to the best of its ability to be successful. The panel, which included Martin Boyers representing the British Ports Association, Alex Veitch of Freight Transport Association, Duncan Buchanan of the Road Haulage Association and Craig Barbour of APB Southampton & Hams Hall Rail terminal emphasised that to be environmentally friendly you can't forget shipping. Interesting debate was around funding and how the industry sits far behind road and rail as companies like ABP are seen as cash rich.
Delegates are given to opportunity to continue the day of interesting debate, discussion and comment into the evening with the Conference networking dinner.
Day two will see presentations from Krzysztof Zalewski, Port of Gdansk, Stephen Weaver from P&O Ferries/Chair of LHOFT plus a panel including DIT, DC Consult, PSP Worldwide Logistics and Port of Antwerp discussing "Belt and Road – the real partnership with Europe? – How Chinese developments and investments are influencing European short sea shipping".