If you didn't get an opportunity to join Coastlink Live on 22 April 2021, don't worry as the recording is now available for you to watch.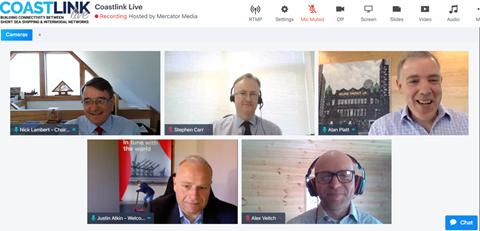 Over 250 delegates registered for Coastlink Live to hear the discussion on Short Sea Shipping – Adapting the supply chain in the post-Brexit era. This first virtual session delivered insight from our panel of experts on how the movement of freight is changing post-Brexit and the impact this is having on both the supply chain and the short sea shipping sector.
As a key strategic port for short sea operations Justin Atkin - UK & Ireland Representative for the Port of Antwerp - set the scene with an overview of the level of short sea connections on offer at the Port of Antwerp. Currently Antwerp offers exceptional connectivity options with 55 short sea feeder services to Northern Europe and the Mediterranean; over 220 weekly container barge shuttles to 90 European destinations; and 225 weekly rail shuttles to over 70 European destinations.
The event - moderated by Nick Lambert of NLA International – provided an overview of the emerging trends in the sector and how our experts see the future evolving. Discover what our panel had to say on the following topics:
- Alex Veitch, General Manager – Public Policy, Logistics UK – as one of the biggest business groups in the UK, Alex provided data on freight movements since 1st January 2021 and how this compared with previous years. Looking ahead to the future, Alex provided his thoughts on the introduction of full import controls for EU to UK trade from 1 January 2022 and the potential impact of this.
- Alan Platt, Chief Executive Officer, John Good Group – as a freight forwarder and shipping liner agency Alan provided his thoughts on: how they are witnessing a shift from European road freight to unaccompanied short sea container volumes, with increased and expanded routes from Europe to the UK; the factors driving this change; and the subsequent impact on landside operations.
- Stephen Carr, Group Commercial Director, Peel Ports – as one of the largest Port Operators in the UK, Stephen highlighted the changes being seen in the Irish Sea routes with a distinct shift in favour of the Northern Ireland corridor and away from the central corridor. He emphasised the increase in short sea routes to the UK and directly to Ireland; and the opportunity created for feeder services as a result of price differentials in the deep sea routes - providing feeder services with the ability to compete with direct calls in to the UK.
This first virtual session of Coastlink Live was sponsored by Navtek Naval Technologies Inc - a highly specialist naval engineering, design and shipbuilding company, guided by a commitment to technological excellence and an innovative forward-looking approach. For further information on Navtek's specialisation visit our website.

Enjoy what our panellists had to say in our short excerpt from the first Coastlink Live session and find out how to view the full virtual online conference - Coastlink Live Short Video