27 expert speakers from leading EU & UK shipping, ports, and logistics companies presented at this year's Coastlink conference.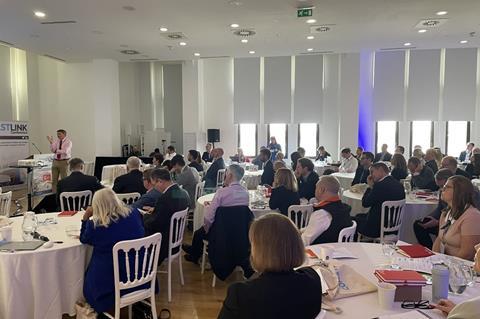 If you didn't attend the 2023 Coastlink conference in the historic maritime City of Liverpool, you can still learn from industry leading experts in attendance by downloading the papers, presentations, and on-demand content. The proceedings are available to purchase for just £175 (or €205 euros).
You can pay and download the event recordings and presentations from the Coastlink website here.
Take a look at this year's full conference programme on the Coastlink website here.
Highlights at this year's event include:
Short Sea Shipping: Simple yet Complicated – keynote address from Roger Megann, Managing Director of WEC Lines UK.
Gate to Great – building a case for a greener transport alternative for smaller cargo volumes – short sea shipping and intermodal cargo flows – Michael Rosenkilde Lind, Senior Commercial Manager, Port of Aalborg.
Post- Brexit and Post-Pandemic – are we where we need to be? Hear from our panel of experts including Port of Dover; Irish Exporters Association; DFDS A/S, and Bilbao Port Authority.
What mode of transport uses Ports? Stephen Carr, Group Commercial Director, Peel Ports.
Practical examples of building resilience into a supply chain using intermodal services - Geoff Lippitt, Group Commercial & Strategy Director, PD Ports.
Freeports – Driving change for coastal shipping and the supply chain? Hear from our panel of experts including LCR Freeport, Portico Shipping, Teeside Freeport, Customs Manager Ltd.
Port of Amsterdam – At the forefront of the transition - Maurice Delattre, Area Manager, Port of Amsterdam.
Port of Antwerp-Bruges – Providing total intermodal connectivity solutions - Justin Atkin, UK & Ireland Representative, Port of Antwerp-Bruges.
Driving efficiency through Data & Port Collaboration - Hear from our panel of experts including Port of Tyne, Royal HaskoningDHV, BIMCO, and Port of Tilbury Ltd.
Coastlink 2024 will be hosted by the Port of Amsterdam and will be taking place on 24 & 25 April next year. To contact the Coastlink team for information on the 2023 event downloads or to register your interest for Coastlink 2024 contact us at info@coastlink.co.uk.