Coastlink's host port for 2021 – the Port of Antwerp – recently announced that it is taking the next step in the development of a digitally secure port with the launch of the Certified Pick up (CPu) digital integrated solution for the release of containers.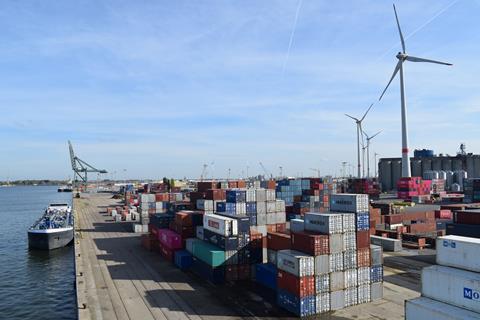 The CPu platform will commence operation at the port on 1st January 2021 and will connect all stakeholders involved in the container import process. The new platform provides a more secure process – generating an encrypted digital key with which the carrier can pick up the container -rather than the current system of a unique PIN code. The platform will improve operational efficiency with a reduction in the turnaround time of import containers at the port, before their onward journey by rail, barge or truck.
Jacques Vandermeiren, CEO at the Port of Antwerp, stated "This is a story of co-creation with the aim of marketing the Port of Antwerp even better as a high-performance digital port. We set up a port-wide consultation structure, which monitors the project and adjusts it if necessary."
This is yet another example of how the port industry is looking to the future and improving efficiencies through digitalisation and innovation – a topic that Coastlink will focus on in Day 2 of the Conference.
In 2021, Coastlink will be held in the Event Hall at the prestigious Port House in the Port of Antwerp. The Conference Programme topics being discussed are:
- Session 1: Market Sector Overview: Industry Challenges and New Opportunities for Short Sea & Feeder Shipping
- Session 2: Building Connectivity & Networks for the future – linking Short Sea & Feeder Shipping to Intermodal Transport Routes
- Session 3: Looking to the future – Improving efficiencies through Digitalisation & Innovation
Benefit from the informative presentations and engaging panel discussions being delivered at Coastlink. For more information on how to attend the event and the full conference programme visit the Coastlink Website. Alternatively, please call the team on +44 1329 825335 or email info@coastlink.co.uk.
What to keep up to date before the event? The Port of Antwerp is holding a Brexit supply chain webinar on Wednesday 14th October 2020 explaining the work that the Port has done to ensure a smooth transition for post-Brexit supply chains. The webinar will highlight the benefits of routing volumes through Antwerp including intermodal connectivity, available warehousing and storage infrastructure, and customs formalities.
Click here for more information : Port of Antwerp - Ready for Brexit webinar