Book now to secure the 15% Early Bird discount on your delegate place at Coastlink 2020.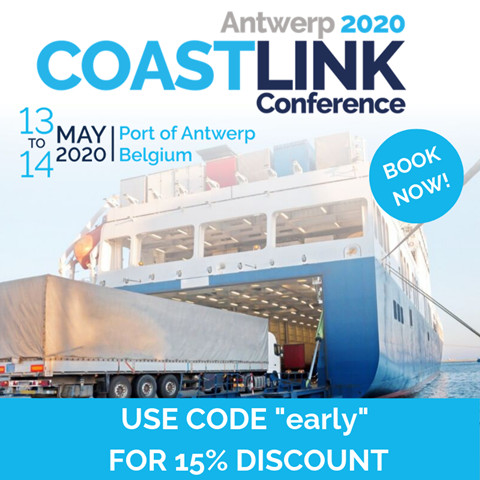 Coastlink 2020 will be hosted in the Port of Antwerp - Europe's second largest seaport – on Wednesday 13th and Thursday 14th May 2020. The event will be held in the Auditorium at The Port House – an award winning and dynamic venue, reflecting the innovative nature and sustainable values set out by the port.
The theme for the 2020 event will focus on Building Connectivity between Short Sea Shipping & Intermodal Networks. Coastlink will deliver 1.5 days of Conference Sessions which will include informative presentations and panel discussions designed to encourage open discussion and audience participation. Session topics include:
Session 1: Market Sector Overview: Industry Challenges and New Opportunities for Short Sea Shipping.
Session 2: Building Connectivity & Networks for the future – linking Short Sea Shipping to Intermodal Transport Routes.
Session 3: Looking to the future – Improving efficiencies through Digitalisation & Innovation.
Coastlink is a neutral pan-European network dedicated to the promotion of short sea and feeder shipping, and, the intermodal transport networks that support the sector. It is a place for industry professionals to meet and discuss future innovation, economic and environmental considerations – and develop partnerships that will help build a sustainable future.
There will be a number of networking opportunities on offer throughout the event which are included in the delegate package – the highlight of which will be the Conference dinner on the evening of 13th May. The afternoon of Day 2 will incorporate a technical visit at the Port of Antwerp giving delegates the opportunity to see the working dynamics of this truly international port.
Included in the full delegate package:
Conference attendance on both days
Place at the Conference Dinner on the evening of Day 1 – 13th May
Place on the Technical Visit at the Port of Antwerp, on the afternoon of day 2 – 14th May
Conference Handbook & full documentation in electronic format
Lunch and refreshments on both days
Networking Opportunities throughout the event
Our 15% Early Bird Discount is now available on the delegate package. To book your place & enjoy the benefits of this discount, visit our Website and enter code early at the checkout to redeem the discount. Alternatively, please call the team on +44 1329 825335 or email info@coastlink.co.uk.