The final day of GreenPort Congress and Cruise concluded with a boat trip technical tour of the host port, Port of Lisbon.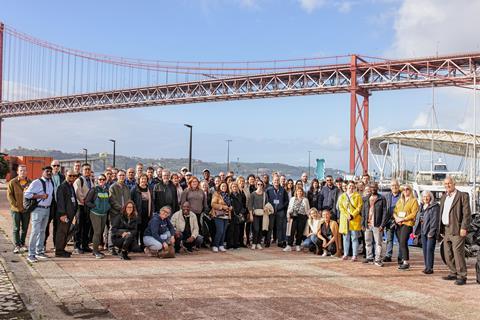 The host port prepared a different morning for all the participants of the 2023 edition of this Congress aboard a catamaran named Seagull. This tour allowed delegate to learn more about the main port infrastructures and the size of its territory.
This value-added extra encouraged delegates to further network with other industry experts outside of the conference room.
Port of Lisbon is the third-largest port in Portugal, visited by more than 2000 vessels every year and has a container capacity of more than 1Million TEU. Its 14 terminals, that handled more than 11 million tons in 2022, allow the port to receive different types of cargo: containers, liquid, and solid bulk and breakbulk and offers a complete network of connections with the main ports of the world.
The tour started from the conference venue The Alcântara Maritime Station and included the history of the Port and the city from tour guide Tiago Fernandes, Head of Logistics, Port Of Lisbon Authority. Attendees were shown all aspects of the Port from the YILPORT Liscont Terminal, which conducts business in container operations. The terminal is located in the heart of Lisbon, the regional center of Portuguese manufacturing industries and the biggest consumption area in Portugal, as well as being the intersection of North-South and East-West seaborne trade routes. As well as Lisbon Cruise Terminal, which integrates the new building and the Santa Apolónia Cruise Terminal, offering the best conditions to accommodate cruise ships and passengers with ever greater demands, thus providing an excellent service to anyone who wants to visit Lisbon on board a cruise ship.
If you missed this year's Greenport then on-demand videos together with the conference proceedings will be made available this week. Pre-purchase your access here. Login details will be forwarded later this week or alternatively contact the team on congress@greenport.com