Attendees of Coastlink 2022 enjoyed an evening drinks reception, sponsored by the Port of Antwerp-Bruges, at De Ark restaurant adjacent to the Port House venue.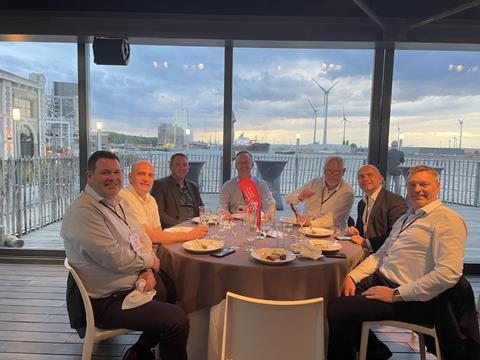 Enjoying the evening sunshine, delegates, speakers, and guests were able to take in the atmosphere from the restaurant balcony with views over the harbour. In a such a relaxed environment, attendees gathered to chat through the events of the day, and to continue the networking discussions held throughout the conference breaks.
Attendees then enjoyed a sumptuous 3-course conference dinner of sea bass and sirloin steak in the upstairs of the restaurant, with panoramic views over the harbour. A thank you must go to our dinner sponsors – Navtek Naval Technologies Inc – for their support of the evening event.
The atmosphere throughout the evening was positive and buoyant. On behalf of the host port, Annick Dekeyser of the Port of Antwerp-Bruges, thanked guests for attending the event and 'handed over the baton' as she announced Coastlink's host port for 2023 will be the Port of Liverpool.
Standing up to invite attendees to Coastlink in 2023, Stephen Carr of Peel Ports Group, confirmed the dates of the event as 10 & 11 May and welcomed all attendees to join him in the historic City of Liverpool. Coastlink 2023 is set to be another not to be missed event!
For full information on the upcoming Conference Programme and how to get involved visit the Coastlink website or contact Sally Wattam at swattam@mercatormedia.com