Are you benefitting from the movement of freight by short sea? Are you considering the most time and cost efficient movement of freight? Or, are you looking at ways to reduce carbon emissions and move freight by rail, barge and sea? Keep up to date with all the latest news from Coastlink and follow our social media channels.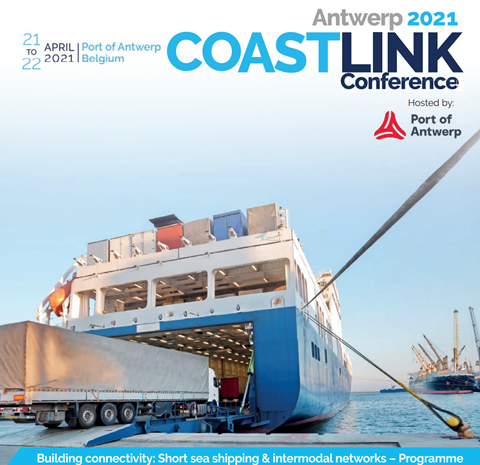 Collaboration, communication and connectivity remain key elements to the success of the movement of freight across the UK, Europe, and the rest of the world. Keep connected with the Coastlink Conference and hear all the up to date news stories affecting the ports, shipping and logistics sectors. Follow us on Twitter at #Coastlinkconf and LinkedIn @coastlinkconference
Coastlink is a neutral pan-European network dedicated to the promotion of short sea and feeder shipping and the intermodal transport networks through the ports that support the sector.
Want to know more? Join us at the Coastlink Conference on 21 & 22 April 2021 at the Port of Antwerp. This 2-day event will be held in the prestigious Port House and will include full networking opportunities together with a technical visit at the short sea shipping terminal in the afternoon of Day 2. Delegate places include:
 Conference attendance on both days
 Place at the Conference Dinner on the evening of Day 1 – 21st April 2021
 Place on the Technical Visit at the Port of Antwerp, on Day 2 – 22nd April 2021 which will include a tour of the short sea shipping terminal
 Conference Handbook & full documentation in electronic format
 Lunch and refreshments on both days
 Networking Opportunities throughout the event
Book your delegate place online and take advantage of all that Coastlink has to offer in 2021. Or, contact our dedicated team: Jo Miller on jmiller@mercatormedia.com +44 1329 825335 or; Sally Wattam on swattam@mercatormedia.com to talk through how we can help you participate in this event.
For full information on the Coastlink Conference visit our website. Full details of the 2-day Conference Programme can be found here and information on our speakers can be accessed here.