Join Lisbon Cruise Port, Heraklion Port Authority, Quadrant and Global Ports Holding.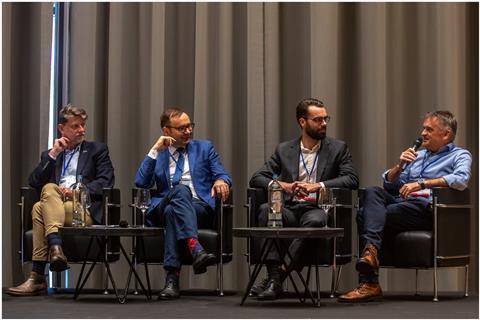 Day one of GreenPort Congress & Cruise 2023 will include a session discussing Cruise Infrastructure Development. Leading professionals from a range of consultancies, ports companies and other organisations will share their insights.
Cruise terminals should have an important role within its community by implementing eco-friendly practices like using renewable energy sources, optimizing waste management, promoting local and sustainable tourism, and adopting technologies to reduce emissions and environmental impact. Learn about Going Green: How can a Cruise Terminal be more sustainable from Duarte Morais Cabral, General Manager, Lisbon Cruise Port.
Minas Papadakis, CEO, Heraklion Port Authority will be discussing Opportunities, Risks & Threats regarding "Cold Ironing" in Ports - "The case of Heraklion Port". Cold ironing is the major way that ports can contribute to reducing shipping's emissions. The administration of Heraklion Port has set the green transition as their top priority. The European program the "Electriport" was the result of their efforts towards a greener and sustainable port.
Armando Santos, Global Partner - Client Manager - Energy and Industry, Quadrant presentation will focus on Shore-to-Ship Connection at Cruises and Cargo Terminals of the Lisbon Port. Considering the targets for reducing the carbon footprint of the port operation and its impact on Lisbon City, APL desires with that study, the implementation of OPS systems on the Cruise and Cargo Terminals of the Lisbon Port Oriental area.
Discover Global Ports Holding's (GPH) remarkable expansion in transforming cruise infrastructure and its commitment to developing future-ready ports from Stephen Xuereb, COO, Global Ports Holding. With a global network of 27 ports across 14 countries, GPH brings together years of experience, operational expertise, and collaboration to revolutionize the cruise industry. Join this session to gain valuable insights into GPH's expansion and its strategies for developing future-ready cruise ports in shaping the cruise infrastructure of tomorrow.
With under four weeks to go don't miss out on the opportunity to learn from leading industry speakers as well as build important connections at GreenPort Congress & Cruise. The conference features two days of conference presentations and panel discussions for Congress & Cruise topics, a welcome reception, conference dinner and port tour.
Book online or call the conference team on +44 1329 825335. For more information email congress@greenport.com.