Join S5 Agency World, Royal HaskoningDHV, Kalmar and e-nquest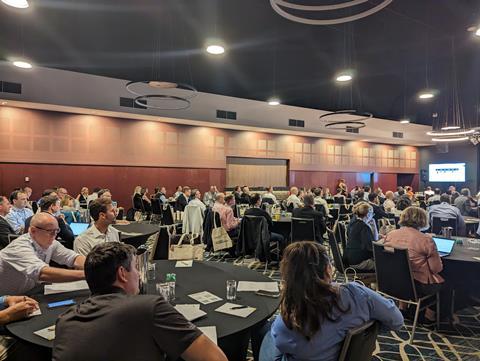 Day two of GreenPort Congress & Cruise 2023 will conclude with a session discussing Digitalization and Technology. Leading professionals from a range of consultancies, ports companies and other organisations will share their insights.
Steffen Siebert- Head of Sales Europe, Middle East & Africa at S5 Agency World will present on delivering resilient supply chains. For complex supply chains to work, digital solutions are needed to facilitate transparent and clear lines of communication. Steffen will delve into how these software's can optimise port operations; increasing productivity and reducing emissions.
Richard Willis, Technical Director Port Operations & Technology, Royal HaskoningDHV will be discussing moving on the Mersey – a localised approach for technology deployment to deliver emission reductions in leisure, freight, and passenger transport. Working together with local stakeholders across the maritime sector in the Liverpool City Region Royal HaskoningDHV studied where the use of river-centric transport modes blended with low-carbon technologies could transform both the under-used waterways in the city and improve air quality.
Miika Murremäki, Head of Digital Solutions, Kalmar's presentation will focus on concrete use cases and experiences in utilising data analytics, AI and simulation to increase productivity, sustainability and safety. By leveraging analytics, AI, and simulation, cargo handling equipment experts can help ports to increase productivity, sustainability and safety. This can ultimately help ports to remain competitive in a rapidly changing industry. Kalmar will present on the main use cases.
Pablo Galán, Head of Business Development, e-nquest will round off the session on LSYM Port Simulators developed by the University of Valencia. Their mission is to accelerate the port industry's transition to digitalized training. They have developed a training system with simulators, capable of reproducing the working environment of real machinery used at the terminals like quay cranes, mobile harbour cranes and vehicles like heavy forklifts or reach stackers among others.
With just over four weeks to go don't miss out on the opportunity to learn from leading industry speakers as well as build important connections at GreenPort Congress & Cruise. The conference features two days of conference presentations and panel discussions for Congress & Cruise topics, a welcome reception, conference dinner and port tour.
Book online or call the conference team on +44 1329 825335. For more information email congress@greenport.com.