The opening keynote session on Wednesday 18th October will cover: Climate Change: Energy efficiency, GHG emissions reduction & adaptation.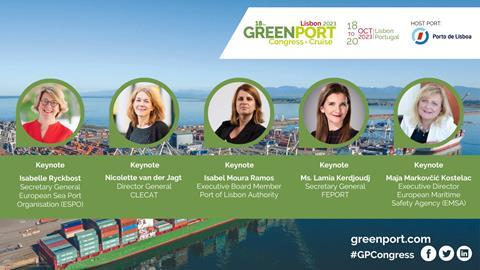 The risks to Ports, Shipping & the Logistics from climate change are increasing. This year's all female panel will discuss options available to combat these risks hearing from ports, shippers, and companies across the maritime industry.
Maja joins an already incredible strong opening morning keynote panel including:
Isabelle Ryckbost, Secretary General , ESPO
Nicolette van der Jagt, Director General, CLECAT
Isabel Moura Ramos, Executive Board Member, Port of Lisbon Authority
Lamia Kerdjoudj Secretary General, FEPORT
Ms Maja Markovčić Kostelac took up the position of Executive Director of EMSA's on 1 January 2019. She is responsible for the running and development of the Agency under the oversight of the Administrative Board. Starting out as a maritime lawyer, she has since gained long-standing experience in the maritime field in both the public and private sector.
Secure your space now and meet our panellists on the first day of the conference, to ask your questions and find out how ports, shipping and logistics are combating climate change.
With under one week to go don't miss out on the opportunity to learn from leading industry speakers as well as build important connections at GreenPort Congress & Cruise. Book online or call the conference team on +44 1329 825335. For more information email congress@greenport.com.